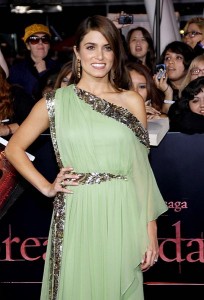 The end is near for Twilight fans as the story comes to a conclusion on the big screen, but many of the cast have admitted that although they will miss their on-set family they will all still remain friends.
For Nikki Reed, who plays Rosalie Hale in the Twilight Saga movies, she admits that it's been a fun ride and that in the early days all cast members got on well. "In the beginning, it was innocent and fun, and we were like one big happy family," she told Seventeen. "It was like being at sleepaway camp."
But Reed also admitted that fame has changed the relationships between cast members. "Success came along and changed the dynamic," Reed said. "We're not all best friends, and we're not all going to hang out together after the final movie is done." She also admitted that when the cameras stopped rolling it was hard to see the relationships between co-stars deteriorate.
"It was very, very sad. Let's just leave it at that," said Reed, who recently wed former American Idol contestant Paul McDonald. "Attachments grow when you're working with the same people for so long. People are friends, people fall in love, people get in fights. We're not all robots in that way. Sure, things have gone on, and it's weird to have them be in the public eye."
The Twilight Saga: Breaking Dawn Part 1 opens this Friday. Watch interviews with Reed, Robert Pattinson, Kristen Stewart, Taylor Lautner, Ashley Greene and Jackson Rathbone.