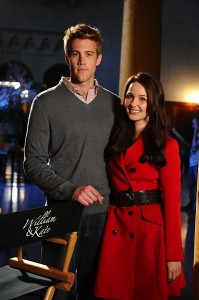 Hot off the press!
Image stills from the made-for-TV movie based on the lives of Prince William and Kate Middleton were just released by the Lifetime network showing actor Nico Evers-Swindell posing next to his onscreen bride-to-be Camilla Luddington – in a red coat similar to the one Middleton recently wore to her alma mater, St. Andrew's University.
Evers-Swindell was cast as the future king in January of this year, while Swindell, was hired one week later. Lifetime said the made-for-TV movie will focus on their whirlwind romance charting "the ups and downs of their nine-year courtship complicated by social and royal family pressures," right up to their recent engagement. Lifetime also revealed that the movie would chronicle the couple's history "from the moment the two students met at Scotland's prestigious University of St Andrews," as well as the "intense global media attention surrounding their storybook nuptials."
The movie is due to air a week before the royal wedding, which is set to take place April 29, 2011.
—By Toni-Marie Ippolito
Do Nico and Camilla make a good William and Kate? Is there someone better suited to play Kate? My pick for Kate would be Katie Featherston, the Paranormal Activity actress who bares a striking resemblance to the soon-to-be princess.