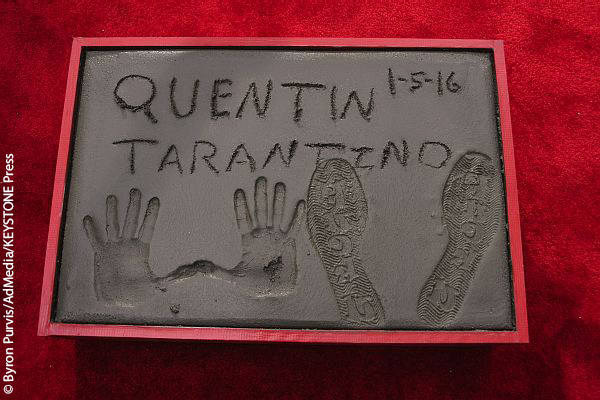 Quentin Tarantino is famous for dropping f-bombs in his movie scripts—a grand total of 1,371 times in all his movies—and literally cemented that status at the Grauman's Chinese Theater on Tuesday.
The director was sealed in entertainment history when he, like many stars before him, put his footprints and handprints in the sidewalk in front of the legendary theater on Hollywood Boulevard.
But, unlike any other star before him, Quentin made sure to wear sneakers that had a giant "F*CK U" on the soles. In fact, they're the same shoes that Quentin's muse Uma Thurman wore in the first Kill Bill installment.
It's unclear whether the theater will let the sidewalk stay as is or if they'll somehow censor it.
Until then, let's be thankful it wasn't the n-word—which was used roughly 65 times in his latest movie The Hateful Eight.  ~Shelby Morton