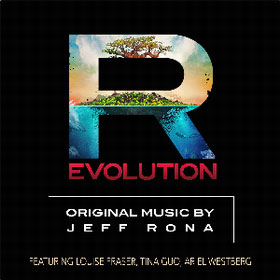 Just in time for the release of the movie on April 12, the Revolution soundtrack is being released by Wide Blue Sky Records on the same day. The modern and moving soundtrack is by film composer/recording artist Jeff Rona, who says, "Revolution picks up where Rob's Sharkwater left off, and I had the privilege once more to work so closely with director Rob Stewart. His vision is to show the deep and often strange beauty of planet Earth both on land and in the sea, and remind us why we must fight to preserve her for ourselves and future generations. In addition to tracks from the movie, I've taken some of my themes from the score and reimagined them in collaboration with some of my favorite artists, with some wonderful surprises."
The album features a number of musical collaborations with artists including Tina Guo, Louise Fraser, Arial Westberg, and others performing new songs based on Jeff Rona's original soundtrack to the film.
Continuing his adventurous journey around the world, filmmaker Rob Stewart brings us Revolution, a full length feature film that is inspiring humans to change the world and save our planet. Along with world renowned experts, he learns that past evolutions can help solve some of our current and future environmental problems. Startling, beautiful, and provocative, Revolution has already won awards at international film festivals and shows us that we can make a difference. With instrumentals as well as new songs adapted from the Revolution score, the music beautifully captures the the breathtaking beauty of the film's imagery, as well as the agonizing dilemma faced by our planet's fragile ecosystems. Revolution is a call to action.
Revolution opens across Canada on April 12, 2013. The album is available for download at iTunes.