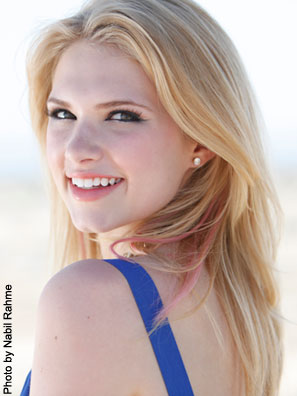 Claudia Lee found fame after landing a starring role on the hit television series, Hart of Dixie. She'll be making her big screen debut playing Brooke in the action comedy sequel Kick-Ass 2, alongside an A-list cast including Chloë Grace Moretz, Aaron Taylor-Johnson, Jim Carrey and Nicolas Cage. Tribute chatted with the young star to find out how "kick-ass" the experience really was.
How would you describe your character in the film?
I play Brooke; she's Mindy's nemesis. Brooke is introduced in the Kick-Ass 2 movie in Mindy's school life and she's very manipulative—she can manipulate people in order to get what she wants. She is in charge—you don't want to be on her bad side. She's a really fun character to play and I've been searching for a role like this for a long time. When Kick-Ass 2 came out, I was like, "Oh my gosh, this is perfect!" It's so different. It's so dynamic.
Were you a fan of the first Kick-Ass movie before you took on this role?
I'm a huge fan of Kick-Ass! And also I love all the comic books. I know this kind of sounds nerdy but when I was younger, my cousin and I would read them over and over again, so I totally grew up with that.
How did you land the role?
I was taking a holiday in the summertime and they wanted to see me so they asked, "How about if you send a tape? Wait, no. We really want to see you in person." I guess things work out when they're meant to be. I'm just so glad they picked me because I really fell in love with this character. She's such a cool, edgy character.
Where did you film and what was it like working with the cast?
We were working at a school in Hamilton [Ontario] and it's the same school they filmed at when they did the first Kick-Ass. Aaron [Taylor-Johnson] is very cool. I love his work. I really respect him as an artist because he's so good at his craft. And I love Chloë; she and I hit it off like BFFs, like we knew each other for so long and we all had such a great time. It's really a wonderful group of people.
How did they work Nicolas Cage's character into the sequel?
It's a flashback scene involving Chloë's character, Mindy. But I think it's great that he's coming back because his work also is so phenomenal. The first Kick-Ass with him was super cool; Big Daddy was such a cool character. And his relationship with Mindy was so well received. ~Soriyya Bawa