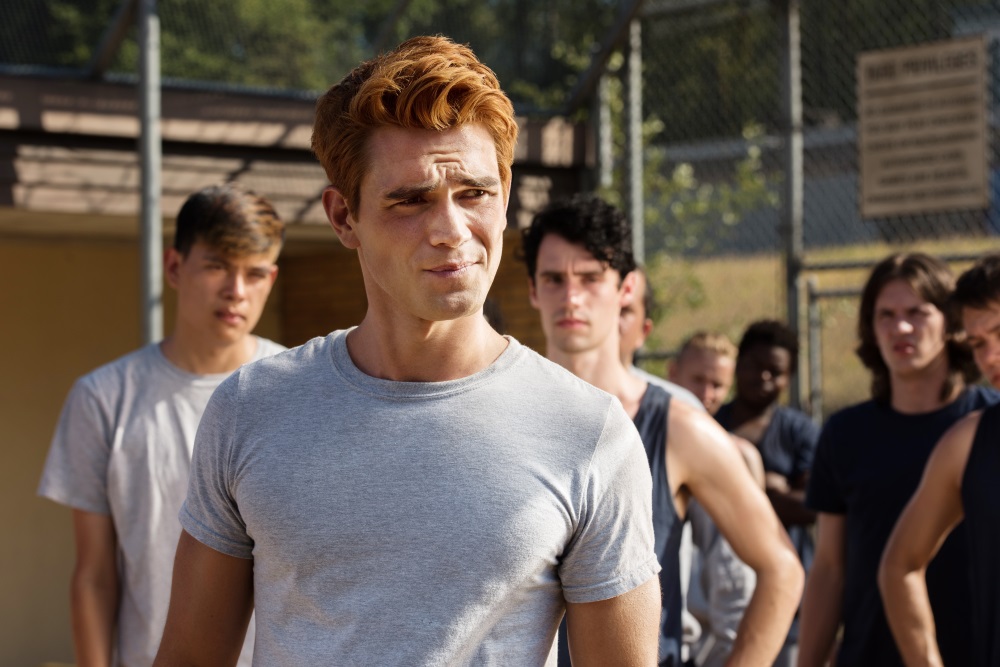 This review contains spoilers for Riverdale.
"Prison inmates aren't allowed shoes with laces!" I screamed at my television. Archie (KJ Apa) goes to juvie in this week's episode of Riverdale — "Fortune and Men's Eyes." Archie wears not one but TWO pairs of shoes while incarcerated… WITH LACES! Sound off in the comments if you know why prison inmates can't have shoelaces.
I really loved the moral dilemma Archie faced in this week's episode: shank a Ghoulie for protection from the Serpents, or be a lone wolf in prison. Archie's cellmate Mad Dog advises him to trust his animal instincts and proactively eliminate threats, but Archie has a much more "theatrical" idea: prison football game. Veronica (Camila Mendes) brings the rest of the River Vixens to cheer the prisoners on. Their performance of "Jailhouse Rock" is great in isolation, but it clashes with the tone of the episode. The River Vixens' performance was right out of the 1950s, while the prison riot that immediately followed was out of a gritty Netflix show.
Veronica is really stepping up. She's decided to start a chapter of the Innocence Project, a real-life organization that seeks justice for the wrongfully convicted, to help clear Archie's name. In the comics, Veronica would have probably just left Archie for Reggie (Charles Melton). This might actually happen, but it's still nice to see Veronica care. As a fan of the comic books, I always found it hard to justify why I'd choose Veronica over Betty (Lili Reinhart), but Riverdale makes my choice infinitely easier.
Betty and Jughead (Cole Sprouse) were #couplegoals this week. They make a good investigative team. Some young people in Riverdale have gotten a little bit too obsessed with a role playing game. It was revealed that Dilton killed himself as a sacrifice to the Gargoyle King – a demonic entity who can be summoned by playing this game. Ethel's (Shannon Purser) boyfriend Ben also killed himself in this week's episode. Seeing Betty cling to Jughead in horror as Ben casually threw himself out of his hospital room window was heart-shattering to watch. Little moments like that are the reason Lili Reinhart is the best actor on the show.
So who is the Gargoyle King? The adults in Riverdale seem to know. Apparently they made a Stephen King-esque pact as kids to never discuss it again.
This is supposed to be the kids' junior year of high school. If every episode of season 3 has death and gloom in it, it will be too emotionally exhausting. "But…but you said you hated "Jailhouse Rock," so which is it?!" I never said I hated "Jailhouse Rock" or any moments of levity. I'm merely stating that Riverdale often goes to the extremities of tone within a single episode. Even in the most perilous times, humans find joy. You're telling me Betty and Jughead can't have an argument and then a resolution while also digging deeper into their investigation? I think they can… because season 1 — the show's most acclaimed season — did just that!
So what's my verdict? Is season 3 going to juvie with some sweet new Adidas kicks? Nah, I like it just fine. At its best, this show's still got it. What is "it" you ask? From ages 11-16, life truly feels magical. Think of the music, the movies, the memories from when you were 11-16. Doesn't it all feel magical?
As "cringey" as this show can feel sometimes, at its best, it takes me back to that place. Betty and Jughead's love affair is not quite a "20s" relationship. There's something more nascent to it. They are each other's first love, and they are bonded by these supernatural, even magical, experiences. In many ways, they are similar to Eleven (Millie Bobby Brown) and Mike (Finn Wolfhard) on Stranger Things.
I don't think comparing Riverdale and Stranger Things is inappropriate. They're both trying to appeal to our sense of nostalgia for the idyllic small town American childhood. Stranger Things does it best, but there's an indellible feeling of pre-teen wonderment in Riverdale. That, my friends, is what makes this show feel truly magical.
What are some of your favorite magical moments from Riverdale's three seasons? Mine is still Archie and the gang rescuing Cheryl in season 1. Leave yours in the comments below. ~ Yanis Khamsi