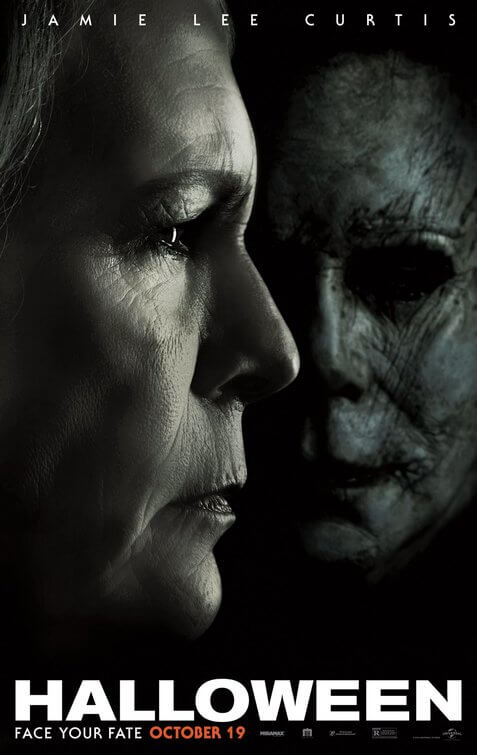 Jamie Lee Curtis is back as Laurie Strode in the franchise reboot film Halloween, which debuted at the box office this weekend and stole top spot from two-time champion Venom. Meanwhile, Bradley Cooper and Lady Gaga's musical drama, A Star is Born, stayed consistent and earned second place for the third week in a row. Check out all the films that made the top five this weekend — October 19 to 21.
In its debut weekend, Halloween stole top spot and earned an impressive $77.5 million. This horror sequel finds Jamie Lee Curtis reprising her role as Laurie Strode, who has her final, most violent confrontation yet with Michael Myers, the same murderer who terrorized her on Halloween night some forty years ago.
A Star is Born remained strong in second place and brought in an additional $19.3 million, bringing its gross domestic total to $126.4 million for its third week in theaters.
Coming in at third place was the superhero flick Venom, which dropped two spots and earned $18.1 million for a domestic total of $171.1 million in its third week. In the film, Tom Hardy stars as Eddie Brock, an investigative reporter who develops super powers after an alien symbiote, known as Venom, takes over his body.
Goosebumps 2: Haunted Halloween took fourth place in its second week in theaters. This spooky adventure film brought in an additional $9.7 million for a gross domestic total of $28.8 million.
Rounding out the top five was the biographical drama First Man, which fell two spots from third place last weekend and raked in $8.6 million to bring its total earnings to $30 million in its second week. The film stars Ryan Gosling as Neil Armstrong on his journey to becoming the first man to step foot on the moon.
Did you go see any movies this weekend? Let us know in the comments below! ~Caitlyn Clancey