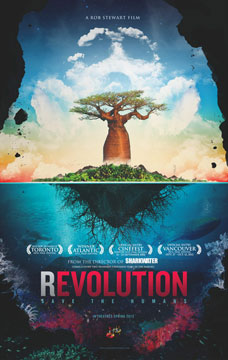 Audiences obviously love director Rob Stewart's new movie, Revolution, which just won yet another award, this time at the Victoria Film Festival. Prior awards won by Revolution are the Most Popular Environmental Film Award at the Vancouver International Film Festival, Best Documentary at the Atlantic Film Festival and The Fund for Santa Barbara Social Justice Award for Documentary Film at the Santa Barbara International Film Festival, introduced by Academy Award-nominated director Gus Van Sant. Revolution was also a Best Documentary runner-up at the Toronto International Film Festival, as well as being the highest-rated Canadian documentary.
The true-life adventure of Rob Stewart, Revolution is a follow-up to his acclaimed Sharkwater documentary, which won 36 international awards. Sharkwater brought to light the issue of shark finning. Now, over 100 countries worldwide have enacted legislation banning finning or the sale of shark fin products. Revolution continues his remarkable journey; one that takes him through 15 countries over four years, and where he discovers that it's not only sharks that are in grave danger – it's humanity itself. Startling, beautiful, and provocative, Revolution inspires audiences from across the globe to start a revolution and change the world forever.
Rob Stewart's first major motion picture release, Sharkwater, met with great acclaim (and is still being awarded) when it premiered at TIFF in 2006. He has also released a new book, Save the Humans, now available in book stores. Revolution will be released nationwide on April 12, 2013.
For more details visit www.TheRevolutionMovie.com