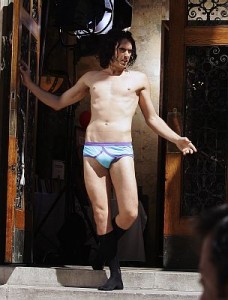 Is there anything funnyman Russell Brand won't do? The fiancé of singer Katie Perry gave onlookers a view of his underpants while he was shooting a wedding scene for the movie Arthur.
The Get Him to the Greek and Forgetting Sarah Marshall star is currently working on a remake of the '80s classic movie that starred Dudley Moore. Brand reprises the role of Arthur, a very rich, drunken playboy who is told by his mother that he must marry a wealthy girl—played by Jennifer Garner—or lose his inheritance. However, things get complicated when he meets and falls in love with a poor girl (Greta Gerwig). Nick Nolte stars as Garner's father as well as Oscar-winning actress null.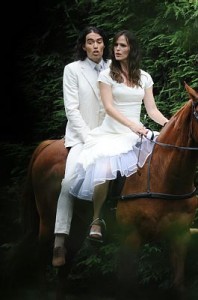 Although Brand is known for playing outlandish characters Perry isn't worried that he'll make a good husband or father. "We are excited to get married, of course. And I think in marriage, when you're picking a partner, that one of the things to keep in mind is would they be a good baby daddy. And he'll be perfect," Perry recently said.