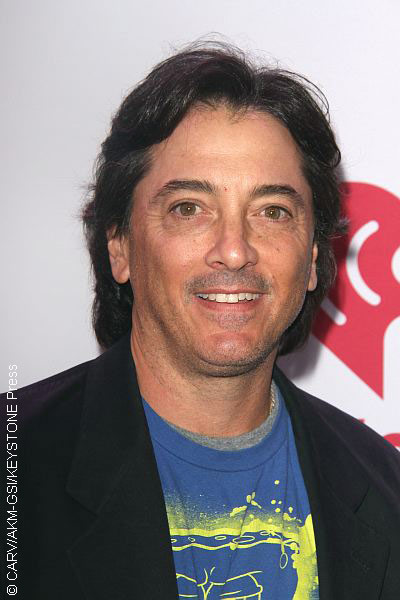 Following the press conference held by Alexander Polinsky, in which he detailed abuse he allegedly suffered at the hands of Scott Baio during the filming of the TV series Charles in Charge from 1987 to 1990, Scott Baio's attorney, Jennifer McGrath, and spokesman, Brian Glicklich, held a press conference on Baio's behalf.
They reiterated that Scott Baio still denies the abuse detailed by Polinsky and their Charles in Charge co-star Nicole Eggert, and showed a photo of Polinsky taken at Baio's 50th birthday party seven years ago. It shows Polinsky smiling, while Baio has his arm around the younger man's shoulders. They questioned why Polinsky would attend Baio's birthday party if his allegations of abuse were true.
They also directed media to Scott Baio's Facebook page, which has a video in which Nicole Eggert makes two very contrasting statements about having sex with Baio. In the first one, she says it was long after Charles in Charge had finished filming and says she asked Baio to sleep with her because she was a virgin and didn't want to be inexperienced for her boyfriend. In the second statement, she says she was only 17, and while they were filming Charles in Charge she was coerced by Baio into having sex with him. Baio also posted a copy of the final script of Charles in Charge, which has the date May 18, 1990 on it (Eggert turned 18 on January 13, 1990).
They read a statement from Baio, who didn't attend because his daughter had the flu:  "For reasons I don't understand, I am the target of false claims that threaten everything that is important in my life. I am hurt and I am angry. But mostly, I am stunned that anyone could be so cruel as to attack not just me, but my entire family with lies. I will not let this continue unchallenged, and will use every ounce of strength and faith in God that I have to defeat the people behind this. This story is just beginning to be told."
McGrath told the media: "Alexander Polinsky, like Nicole Eggert, has made multiple inconsistent statements. And just like Eggert, Polinsky makes his statements in front of cameras with his lawyer Lisa Bloom, who many of you know, just defended Harvey Weinstein. We certainly would prefer not to have all of this back and forth in the media, but we feel like we're left with no choice, because unfortunately, Ms. Eggert and Mr. Polinsky and Ms. Bloom chose to litigate this in the media on an almost daily basis."
Glicklich added: "Scott denies every one of those things. Frankly, if we go through all of the allegations that were made in their various iterations, we could be here all day."
Check out the video of Nicole Eggert's changing stories below: