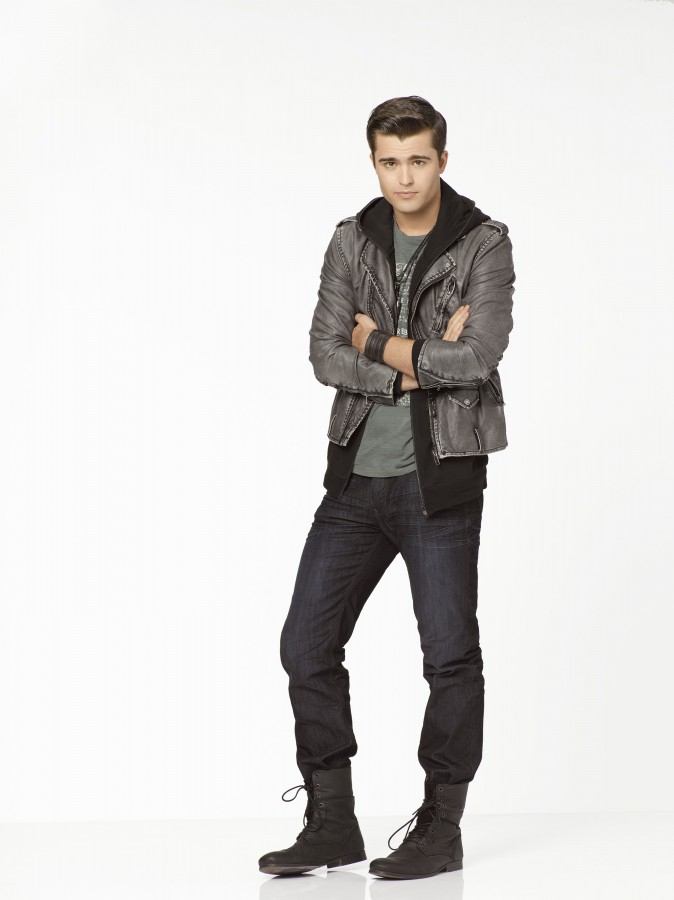 Spencer Boldman takes over the small screen in the TV movie Zapped, which airs in Canada this Friday on Family Channel. He plays the cool and confident Jackson Kale alongside Disney star Zendaya, of the popular series Shake It Up. Spencer is best known for his role as the fun-loving Adam on Disney XD's hit live-action comedy series Lab Rats. Tribute caught up with this rising star to discuss his career and find out what makes him tick.
Did you always want to be an actor?
Yeah! As a kid, I had a pretty crazy imagination. When I was really little I wanted to be 10 different things. I wanted to be a spy for a while, then a doctor – it was always something different. So when I started acting, it seemed like a good choice for me because it fit my personality. I wanted to act when I was about 12 years old, but didn't actually start acting until I was 15. But I was a big movie buff when I was a kid.
Tell us about your role in Zapped.
I play a guy named Jackson Kale and he is this smart guy who likes doing his own thing. The movie deals a lot with cliques and certain groups and my character doesn't really fit into a group. He isn't a jock – he has his own thing going and I think that's cool. It's what originally attracted me to the role. And the movie is about this girl named Zoey played by Zendaya. She is dealing with these crazy guys in her life. She discovers this app that can magically control guys. The app gets her into a bit of trouble but my character brings her back to reality. What I also like about my character is that he is different from the character I currently play on Lab Rats. The viewers of my show will see me in a completely different light.
Which director would you love to work with?
There are tons! I'm just going to go big here. I really like Martin Scorsese; David Lowery – who does a lot of independent films – and Sam Mendes. I get really starstruck when I see directors and producers, more so than actors. I like directors who do cool, independent art house movies. Michael Bay is also awesome to do big budget movies. But these would be some of my top favorites.
How different is it between working on a TV series and on a TV movie?
The movie is shot with a single camera. The television show has multiple cameras – five cameras filming us at one time. It goes much faster on a sitcom. I personally like single camera better because it's a bit more infinite. It takes a little longer but then you can work on the scene a bit more. The other thing that is really cool about doing movies is that you're usually on location. We were in Canada when we were filming – it was so beautiful up there. I'm a nature guy so I enjoyed it!
What is the biggest challenge you've faced as an actor?
I think as an actor you're always concerned about getting typecast, especially when you do television shows. I love the show I work on, Lab Rats, and the character I play but playing it six to eight months each year can kind of get exhausting. I think that as actors, we are artists and creative people who want to obviously do other things. I think that's the biggest thing, not necessary a challenge but it's something I think about when I'm looking for other work.
What was it like starring in the feature film 21 Jump Street?
That was a blast! I would love to work with those directors again. Phil Lord and Christopher Miller were incredible – it was super fun. I filmed all my scenes with Jonah Hill and spent a lot of time with Channing Tatum. Both of those guys are exactly what you hoped they would be. It was blast and we got to do a lot of improv – something that I love but don't get to do a lot of because I work on scripted television. It was cool to be able to improv with one of the best comedic actors. Channing Tatum is really, really funny.
How did your land that role?
Weirdly easy! Usually in any movie, there are auditions, callbacks and director sessions. But for this, they had me go on tape because directors were in New Orleans already. I put it on tape and they literally cast me off my tape – which is weird, even for smaller parts. I never understood why they did that but I've always been super grateful. It gave me a taste of something to work for. Channing and Jonah have been doing it for a long time. I'd love to work with them again.
What would you advise young people who want to get into acting?
I'd say to make sure it's what you really want to do. There are lots of aspects in this business that you're not really aware of when you first start out. I guess you don't realize there's a PR side to it, there's a business side to it and you have to start working with lawyers, managers and agents. It gets chaotic. And if it's not something you're doing for the right reasons, it can be little overwhelming. So I would say make sure it's always something you're passionate about and worry about your work first and foremost. Don't worry about the other things that don't matter. All that other stuff will fall into place.
Do you have a mentor in the industry?
I do. It would be my manager who I've worked with since I was 16 years old. She has been essential in my career.  I'm 21 so all the success I've had for the last five years is because of her. I'm lucky because a lot of people don't get that type of teacher and mentor. It's been nice to be able to navigate the business with her as well.
What's next for you?
We just got picked up for the fourth season of the show, which will probably be our final season. Currently, I'm doing a bit of press for the movie. I'm looking forward to a vacation. I'm going to Italy in a couple of weeks. I haven't been on a vacation since last year. So yeah, that's about it.
Zapped premieres on Family Channel on Friday, June 27 at 8 p.m. ET/PT. ~Marriska Fernandes