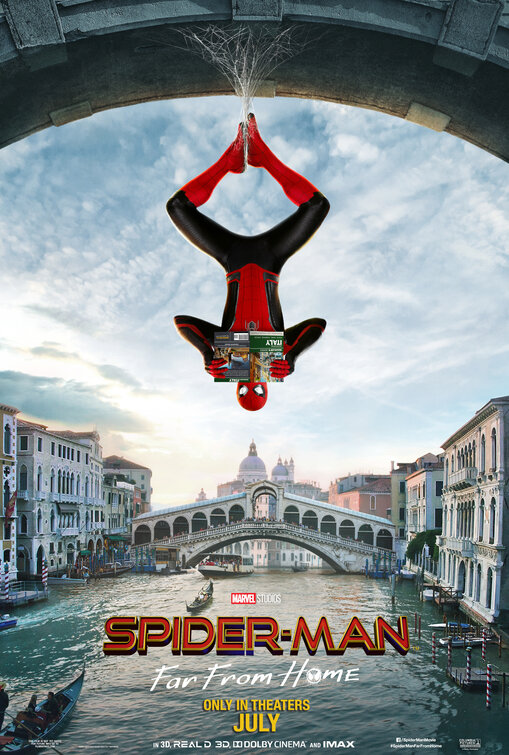 Marvel's last entry into their Phase 3 set of films swung into theaters earlier in the week ahead of the Independence Day weekend in the U.S. With a record-breaking Tuesday opening, Spider-Man: Far From Home set itself up for a hefty weekend performance $92.6 million, for an impressive debut with a six-day opening of over $185 million. The estimated total marks Sony Pictures' biggest six-day opening weekend ever, blowing away industry expectations of $125 million from Tuesday through Sunday.
After leading the box office for the last two weeks, Disney and Pixar's Toy Story 4 dropped to number two this weekend with a gross of $33.9 million. The animated sequel now has a 17-day domestic total of $306.1 million as it continues to outpace its predecessor. With continued strong holdover performances and kids now out of school for summer vacation, it's well within reason to see Toy Story 4 surpass Toy Story 3's $415 million by the end of its run.
Holding steady at third is director Danny Boyle's music fantasy Yesterday. The Beatles-themed flick brought in an additional $10.1 million at the weekend box office to bring its 10-day total to $36.2 million. While not the biggest of hits, the film has now surpassed its $26 million production budget and is well on its way to being a modest hit for the British director.
Finding itself in fourth spot is Warner Bros' latest entry into James Wan's shared universe of Conjuring films, Annabelle Comes Home. The horror sequel brought in an additional $9.5 million in its second weekend at the box office to up its 12-day domestic total to $49.8 million. But despite its positive reviews, the film is now lagging behind its predecessors and will be hard-pressed to match the $100+ million grosses of the previous Annabelle films.
Lastly, rounding out the top five is Disney's Aladdin. Now in its seventh weekend at the box office, the live-action re-imagining continues to do solid business for the House of Mouse managing to fend off newer films over its run to stay in the top five. This past weekend the Guy Ritchie-directed film brought in another $7.5 million to up its 45-day total to $320.7 million domestically, helping it cross the $900 million threshold worldwide. Though reaching the billion dollar mark like Alice in Wonderland or Beauty and the Beast is unlikely, the film will still firmly place itself next Jon Favreau's The Jungle Book as the fourth highest grossing film in this series of live-action remakes.