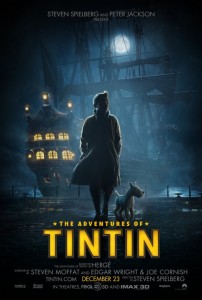 Tintin's in the big leagues now. Renowned filmmaker Steven Spielberg (E.T., Jurassic Park, Cowboys and Aliens) has taken on the challenge of reviving a classic with his upcoming film, The Adventures of Tintin: The Secret of the Unicorn. The full-length animated 3D feature follows Tintin (Jamie Bell), the fearless young reporter, with his canine companion Snowy, on a risky adventure to find a sunken ship laden with buried treasure. The film will introduce some of the classic characters seen in the original Tintin stories like the bumbling Captain Archibald Haddock (Andy Serkis), Inspectors Thomson and Thompson (Nick Frost, Simon Pegg), and pirate Red Rackham (Daniel Craig). The Secret of the Unicorn is slated to be the first instalment in a trilogy of stories.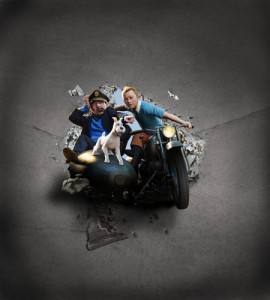 Tintin was first introduced to the world in the late 1920's by comic artist and writer Hergés, and later adapted for television in 1991. Spielberg, a self-proclaimed Tintin fan himself, teamed up with producer and special-effects-extraordinaire Peter Jackson (Lord of the Rings, King Kong) for the project. At an exclusive screening earlier this month, Spielberg and Jackson released finished footage of selected scenes from the film. The pair had never worked together but has wanted to since meeting at the 2003 Academy Awards. When the time came for Spielberg to digitally recreate Tintin, he went directly to Jackson's company, Weta Digital.
To achieve the highest quality of animation, they decided to use cutting-edge motion-capture technology. Actors wear Lycra suits with reflective markers over their bodies and faces while performing on a stage. Their recorded actions and movements are then transferred to the animated characters on screen. (The same technique was used in James Cameron's Avatar.) So, while older Tintin fans will appreciate the classic plots and characters, the new generation of fans will be drawn in with vivid, realistic 3D animation and high-energy action sequences.
The Adventures of Tintin: The Secret of the Unicorn will be released in theaters and IMAX on December 23, 2011.
– Soriyya Bawa