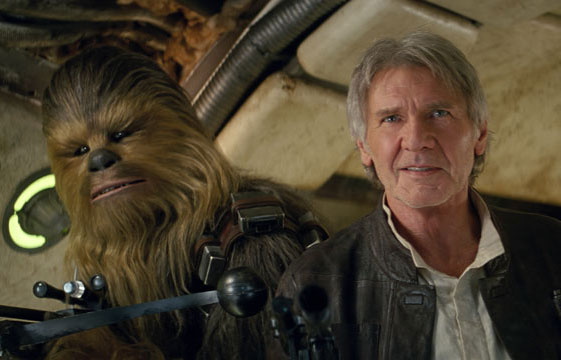 Star Wars: The Force Awakens has a lot going for it. We learn right off the bat that Luke Skywalker (Mark Hamill), the last Jedi, is missing and a Nazi-like organization called the First Order has arisen from the Dark Side. They attack a settlement on Jakku, searching for a map that will lead them to Luke so they can kill him.
A wise-cracking Resistance pilot called Poe Dameron (Oscar Isaac) gets hold of the map and stores it inside an adorable little unit called BB-8, vowing that he'll return for it. When Poe is captured, BB-8 is left to fend for himself.
Meanwhile, a scavenger named Rey (Daisy Ridley) is also fending for herself on the desert planet Jakku. She gets hold of bits of metal and sells it for dwindling portions of food each day. She turns out to be a scrappy little fighter and as the movie progresses, we realize there's much more to her than meets the eye.
She rescues BB-8 and soon after, runs into Finn (John Boyega), a former Stormtrooper who's been programmed since birth to do his job, but just doesn't have the stomach for it.
The two team up for an incredible adventure in which they discover the Millennium Falcon and are then joined on their mission by Han Solo and his faithful, longtime companion Chewbacca.
There are a lot of surprises and reveals in this movie, so I don't want to give too much away, but it was incredible to see Harrison Ford playing Han Solo again (also Carrie Fisher, who makes a very elegant older Leia and Mark Hamill, who appears briefly as a bearded Luke). The combination of characters we love, played by the original actors, combined with a crew of exciting new characters, makes for a great return to this series.
After all these years, Han and Chewie still make a great team and provide plenty of laughs. For instance, when Han realizes Finn is keeping a secret from Rey, he tells him dryly: "Women always figure out the truth. Always." Later, when they land on a planet covered in snow and Chewie utters a complaint of some sort, Han says sarcastically to his large, very furry friend, "Oh really, you're cold?"
Because Luke is in hiding, he doesn't appear much, but the way the movie is set up, it looks like he may feature prominently in the next installment. I saw this in 3D, and it really added to the enjoyment of the film.
Without giving anymore away, this movie is a very welcome addition to the Star Wars universe and believe me, it's going to leave you wanting more – much more.
5 out of 5 stars.
And remember we want to hear from you and all your friends – so… after you've seen The Force Awakens make sure to come back to tribute.ca and click here to rate it and let everyone know what you thought of it and what  you think is coming next!
Do you think Luke will feature prominently in the next movie? Where do you think Rey came from and who are her parents? Will the Dark Side take control in the next installment or will a force of new Jedis take over? Tell us what you think will happen, or better yet what you WANT to happen next when the next Star Wars installment comes out in 2017 – who will be in and who will be out?