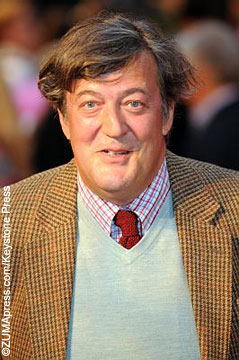 Stephen Fry, 57, is to marry his 27-year-old partner Elliott Spencer. The Hobbit: The Battle of the Five Armies star and his lover have a year to tie the knot after they gave formal notice of their intention at a register office.
A friend of the star – who has suffered with depression for years – said: "Since Stephen met Elliott it is like he has a new lust for life. We've got the old Stephen back. He has spoken about his problems in the past because he wants others suffering with depression and loneliness to know it can affect everyone. But he has found new hope in Elliott and they thrive off one another."
Stephen was previously with Daniel Cohen – his partner of 14 years – until 2010, after which he dated Steven Webb, who was 27 years his junior. However, in November last year he embarked on a relationship with Elliott and on December 23, they made a formal application to marry at a register office in Dereham, Norfolk – Stephen's home county.
Meanwhile, Elliott's dad Robert, 57, has refused to comment on the wedding, telling The Sun: "Thank you for the opportunity but we've not got anything to say."