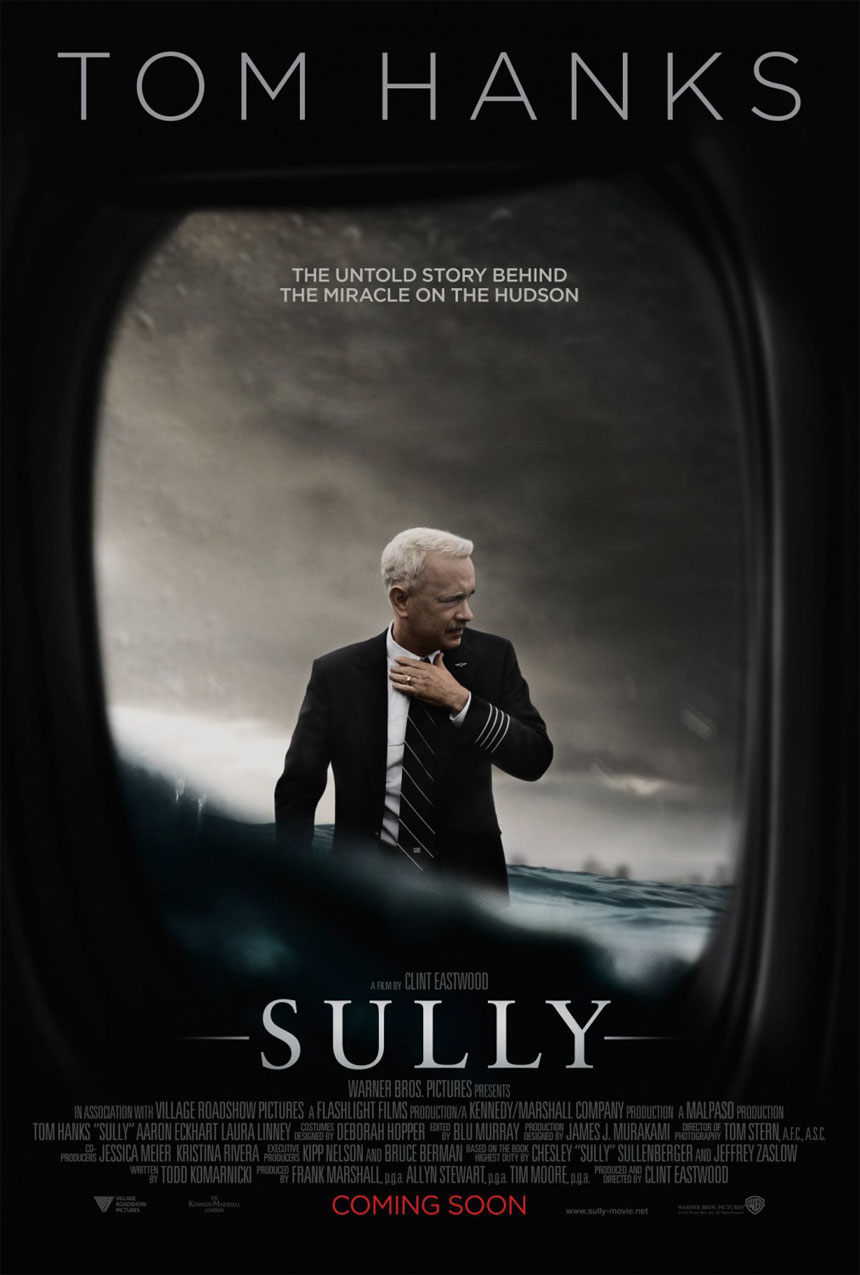 Chesley Sullenberger's aircraft may have plummeted towards the earth on January 15, 2009, but Sully isn't about to come crashing down any time soon.
After soaring to victory at the box office last weekend, Sully has once again flown to great heights. The Clint Eastwood-directed biopic, which currently sports a 4.3 star rating on Tribute.ca, snatched $22 million at the box office this weekend. With Tom Hanks in the lead role and a supporting cast including Aaron Eckhart and Laura Linney, the film chronicling the "Miracle on the Hudson" now has a total of $70.5 beneath its wings.
Although she came out of the woods and hit the big screen for the first time in 16 years, the Blair Witch couldn't scare Sully from the top spot at the box office this weekend. The Adam Wingard-directed film is sitting on a 2.3 star rating at Tribute.ca and raked in $9.7 million in its debut. Having only cost $5 million to produce, that's a solid showing. The horror film was originally marketed under the name The Woods before being revealed as another movie in the Blair Witch franchise at Comic-Con.
Oscar winner Renée Zellweger made her return to theaters this weekend after a six year hiatus as the beloved Bridget Jones. Bridget Jones's Baby emerged from the womb with $8.2 million in its pocket and a 3.9 star rating on Tribute.ca. Co-starring Colin Firth, Patrick Dempsey, Jim Broadbent and Emma Thompson, the film arrives 12 years after audiences last saw Bridget in Bridget Jones: The Edge of Reason.
In its premiere showing, the Oliver Stone-directed Snowden landed in fourth position at the box office this weekend with $8 million to its credit. Starring Joseph Gordon-Levitt as NSA whistleblower Edward Snowden, the biopic was shuffled around the release calendar from Christmas to spring before it was secured a September debut. Shailene Woodley, Zachary Quinto, Melissa Leo and Nicolas Cage round out the supporting cast of this film, which cost $40 million to make and has been given a 3.5 star rating by Tribute readers.
A woods-dwelling witch, the offspring of Bridget Jones and an international fugitive couldn't push Don't Breathe off this top five list. The well-received thriller generated $5.6 million at the box office this weekend, bringing its total to an impressive $75.3 million. The Jane Levy and Dylan Minnette film has a 3.8 star rating on Tribute.ca and is in its fourth weekend of release.