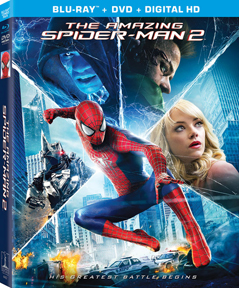 Director Marc Webb lures us into his web of The Amazing Spider-Man 2, illustrating heroes, villains and everyday people living with their decisions, which cause (sometimes deadly) consequences. The film also demonstrates the importance of hope, compassion and how interactions with others can strongly alter their life and perceptions.
Continuing from the first film, Peter Parker (Andrew Garfield), Gwen Stacy (Emma Stone) and other characters try to manage the challenges in their life and look ahead to what they want in the future. The backstory of Spider-Man and the lives around him and those he interacts with are crafted with realism and compassion. The villains Electro (Jamie Foxx) and Green Goblin start as men faced with challenges and outside forces, pushing them to desperate acts and dark deeds. Peter Parker/Spider-Man is already living with death, confusion and pressures when he meets the seemingly insignificant Max Dillon (Jamie Foxx) and reaches out to his old friend Harry Osborn (Dane DeHaan). In both cases he does what he can to be the hero and friend with mixed results.
Spider-Man also is received with mixed results from the people in the city he defends, raising the question of his role as a hero and how he should work with law enforcement. Is the city better without Spider-Man? What are the consequences if Peter Parker stops being Spider-Man?
Director Marc Webb is not afraid to explore the dark depths of each character's nature and give a realistic look at what life in a city with Spider-Man would be like. The limits, consequences and morality of science continue to be looked at from various angles, as well as the scientists and businessmen.
The Amazing Spider-Man 2 is action packed, with heart and soul in abundance. The subject matter may be fiction but the characters and situations are relatable and appealing. It's perfect for fans of Spider-Man and as a gateway to those new to the franchise.
Special Features: Filmmaker's Commentary, 4 Deleted Scenes with Commentary and a Music Video by Alicia Keys called It's On Again.
Blu-ray Exclusives: Nine additional deleted scenes with commentary including "Peter Meets His Father." Also over 100 minutes of featurettes called The Wages of Heroism: Making The Amazing Spider-Man 2. Also available on home release today are: Blood Glacier, Fading Gigolo, The German Doctor, Only Lovers Left Alive, The Quiet Ones and The Sacrament. ~Andrea Hodgins