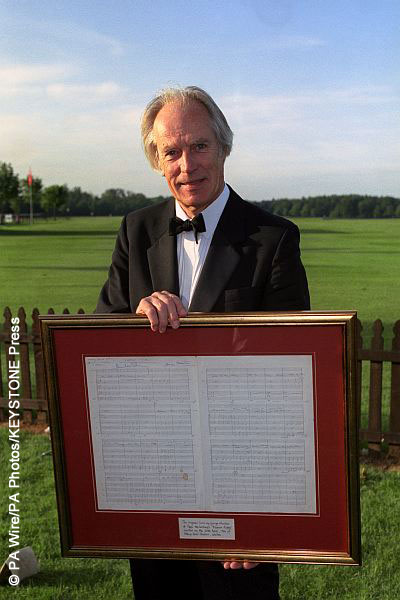 Sir George Martin, producer of The Beatles and regarded as one of pop music's most influential, has passed away at age 90.
News broke of Martin's death when Ringo Starr, drummer for The Beatles, tweeted, "God bless George Martin…he will be missed."
The news was confirmed in a statement by Martin's representative Adam Sharp, who said, "In a career that spanned seven decades, he was recognized globally as one of music's most creative talents and a gentleman to the end. The family ask that their privacy be respected as this time."
Following Ringo's tweet, Sir Paul McCartney honored Martin when he said, "He was a true gentleman and like a second father to me. He guided the career of The Beatles with such skill and good humor that he became a true friend to me and my family. If anyone earned the title of the fifth Beatle it was George."
Martin, whose credits include 23 No. 1 singles in the U.S. and 30 in the U.K., signed the Beatles to Parlophone records in 1962 when several other companies rejected them. He produced all but one of their albums, inserting exuberant arrangements into their tracks.
John Lennon once said Martin: "…made us what we were in the studio. He helped us develop a language to talk to other musicians."
Producer and performer Mark Ronson paid tribute to Martin when he said, "We will never stop living in the world you helped create."
Lenny Kravitz, Josh Groban and Quincy Jones also gave their respects.
Martin is also known for his work with Peter Sellers, Shirley Bassey, Sting, Celine Dion and several others. He retired from producing in 2009.
Martin passed away at his home in England on Tuesday night. He is survived by his wife Judy and his four children. ~Matthew Pariselli