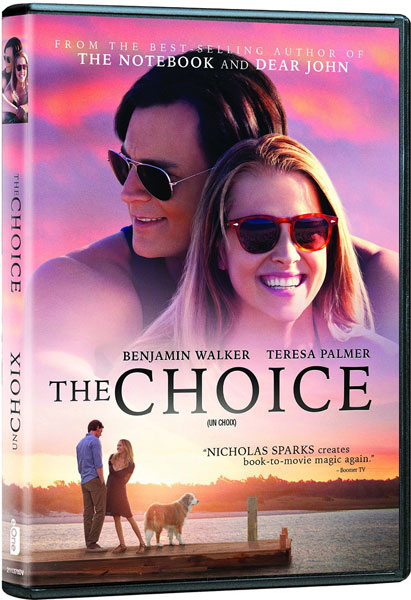 There's so much to love about The Choice and it's not just that it's a really unique, heartwarming romantic drama with appealing leads. There's so much more to this movie.
Having read the book by Nicholas Sparks, I noticed that there are differences in the movie and they are necessary changes. Things that work in books don't always work on the screen, so I applaud screenwriter Bryan Sipe for the well-written script. I did feel that the story progressed a little too quickly, but that's to be expected in a movie – things have to happen faster than they can in a novel.
Benjamin Walker plays the lead role of Travis, a single man whose friends have all married. He hosts parties for his friends that involve boating, barbecuing and loud music. Teresa Palmer plays his new next-door neighbor Gabby, who at first dislikes Travis, not just because he plays loud music when she's trying to relax at night, but because she believes his dog Moby has knocked up her female dog, Molly.
There's a bit of a clash when they first meet, but Travis is a pretty even-keeled person who takes her accusations lightly. Although that doesn't sit well with her at first, she slowly gets to know him. He's charming, has a close relationship with his family, tons of friends and loves dogs. What's not to like? But there's something standing in their way. Gabby has a boyfriend and even though she's obviously attracted to Travis, she's wisely reluctant to move forward – he has a reputation for attracting women easily and getting bored with them just as easily.
As I said earlier, The Choice is not just about romance. It's about how the choices we make in life, however small they may seem at the time, can affect the future. And some choices are so big (Travis and Gabby both have big choices to make in the film) that we have to be careful when making them. When Travis has almost given up on getting Gabby back, Travis' friend gives him advice that can change the course of his life, if he listens to her and acts on the advice. That's what made this movie special – it's not just entertaining, it has words of wisdom that we can choose to listen to — or not.
The setting is also beautiful and serene. Filmed in North Carolina, most of this movie takes place outdoors. Travis and Gabby live on a beautiful bay and many of the scenes take place there, including the aforementioned BBQs and boating expeditions. At night, Travis relaxes with a beer and gazes across the lake. If you're in a frazzled state of mind when you begin watching this movie, you'll feel much more relaxed by the end.
Benjamin Walker is actually a Southerner (he's from Georgia) and he plays the role of a charming Southern gentleman to perfection. Travis goes through a wide range of emotions in this film and Benjamin hits all the right notes. Teresa Palmer, an Australian actress, also sinks into her role so deeply that she and Benjamin easily make you forget you're watching a performance.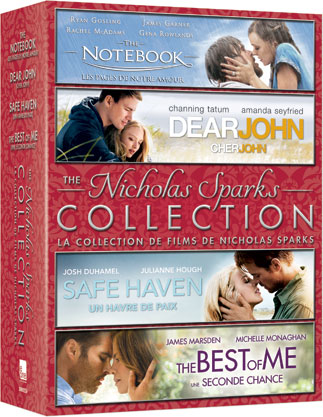 The supporting cast is just as talented, with Maggie Grace as Travis's caring but teasing sister Steph and Tom Wilkinson as their widowed father. Tom Welling (Smallville) played Gabby's boyfriend Ryan, and although we don't really get to see much of this character, he did a wonderful job with the scenes he did have.
There are two deleted scenes that are worth watching – in one, Travis asks his father what it's like to lose a wife and his answer is sure to bring tears to your eyes. The other gives more insight into the close relationship Travis has with his sister. Other special features include: Cinematic Choices: Making The Choice; Nicholas Sparks with Ross Katz, Teresa Palmer and Benjamin Walker; Choosing Home: Nicholas Sparks and North Carolina; Molly & Moby: Choice Dogs; Natalia Safran's Daylight Music Video and Audio Commentary with director Ross Katz and actor Benjamin Walker.
To win a copy of The Choice on Blu-ray, as well as a collection of four DVDs based on books by Nicholas Sparks, please comment below by May 12 to tell us what it is about this movie that appeals most to you.