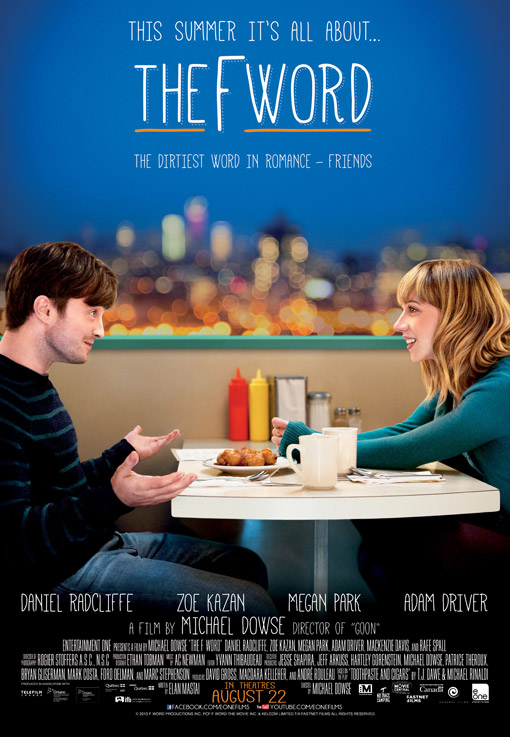 Filmed in beautiful Toronto, The F Word is equal parts funny and romantic. Young love, irresistible chemistry and horribly wrong timing bring together Wallace and Chantry. The film takes a dig at the debatable question: "Can your best friend be the love of your life?" The film's lead couple breaks hearts and bones (literally) while trying to figure this thing they call chemistry.
The film opens with Wallace, a broken-hearted man whose girlfriend has cheated on him, and this betrayal hits him hard as it brings back memories of his parents' affair, which broke their family. At a friend's party he meets the shy and sweet Chantry, who is, unfortunately for him, in a long-term relationship with Ben.
Deciding to be "just friends," Wallace and Chantry start hanging out and the chemistry between the two is undeniable. They can strike up a conversation on virtually any topic without losing momentum – from Fool's Gold sandwiches to Elvis's feces. Yep, you read that right. With their quick wits and sense of humor, the two start to connect more strongly than with anyone else. Wallace tries not to cross the line but can't help fall deeply in love with Chantry. Chantry calls him a "super crazy romantic cheeseball," when they both turn up to see The Princess Bride by themselves. They can easily turn off the whole world and indulge in a conversation of their own – that's perfect chemistry.
It was interesting to see Daniel Radcliffe play the romantic lead, which he not only mastered but also revealed his gift for excellent comic timing. For her part, Zoe Kazan knocked it out of the park with her sassiness and managed to keep up with Daniel's forte for comedy. They are pros at delivering tongue-in-cheek lines in perfect harmony. Together, the duo's intense rapport sizzled on screen. Their relationship felt real and fresh — as if you were watching your best friends fall in love on screen.
Of course, as a Torontonian, seeing the city's prominent neighborhoods was a delight. You will catch glimpses of the CN Tower, Scarborough Bluffs, Beaches, Little Italy and East Chinatown. If you don't know the city, then this film will treat you to Toronto's finest landmarks and hidden gems.
Perfectly portraying complicated relationships, the film is sprinkled with cheesy lines and rib-tickling dialogues that make you want to watch it all over again with your "friend" or your other half – whichever works best for you. Special features include Audio Commentary with Director Michael Dowse and Writer Elan Mastai, The Making of the F Word, Interviews with Daniel Radcliffe and Zoe Kazan and Deleted Scenes.
Other films available for home release this week include: The Expendables 3, The Giver, The November Man, Beyond the Edge and Tyler Perry's A Madea Christmas. ~Marriska Fernandes