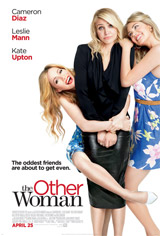 Director Nick Cassavetes brings out the best of each character and delivers a thoughtful perspective of modern romance in The Other Woman. Much like his earlier film, The Notebook, The Other Woman is gritty and emotional at times but always with a sense of realism, hope and choice. Cassavetes allows each character in the film to explore their options and either grow as a person or live with the consequences.
Cameron Diaz is confident and classy lawyer Carly, who has a rocky relationship with businessman Mark (Nikolaj Coster-Waldau). Mark breaks off drinks with Carly and her dad, saying he needs a plumber at his home as there's been an accident. Carly, on the advice of her father Frank (Don Johnson), who's known for his voracious appetite for women, dresses up as a sexy plumber and arrives at Mark's home to offer aid. Instead she meets Kate (Leslie Mann), Mark's wife and she leaves horrified.
Mark travels a lot on business, which allows for much introspection from Carly and Kate about what to do with the news that Mark is cheating on them. Kate who sees herself completely as supporter of her husband and reliant on him, approaches Carly for answers. The comedic and dramatic talents of Cameron and Leslie are well used in this movie as Carly and Kate begin an odd relationship, bonding over Mark and relationships. Some may see the bond between the wife and mistress as odd but I'm sure many can relate to why these women draw strength and support from each other.
Mark is meanwhile oblivious to Carly and Kate being in cahoots, with Carly giving Mark the cold shoulder while Kate stays upbeat and supportive of her husband while she figures out her next move. When the two women decide to follow Mark, they meet the younger and sexually confident Amber (Kate Upton). Carly  decides to completely move on from Mark and doesn't have trouble finding a suitable man as Kate's brother Phil (Taylor Kinney) is often around, helping out his sister.
The Other Woman has much in common with stereotypical romantic comedies but manages to bring charm and realism with grounded characters, who use their believable situations and motivations to make their decisions. A range of ages will enjoy this film and it has appeal for men and women. The major fault I find in the film is the predictable music but it does suit the genre and is used at appropriate moments in the film. The dog is also an element which could have been left out of the film but it does emphasize the struggles of Kate. Of course, dog lovers will relate to the mishaps!
Special Features include: Deleted & Alternate Scenes, a Gag Reel and (not surprisingly, given the actors in the film), a feature called "Giggle Fit." ~Andrea Hodgins