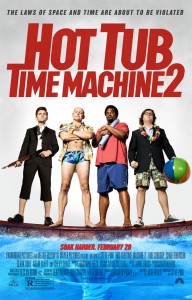 It's Friday and what better way to kick your weekend off than with a movie? Here's what's new in theatres this weekend.
Debuting today is the comedy Hot Tub Time Machine 2. Five years after Lou (Rob Corddry), Nick (Craig Robinson) and Jacob (Clark Duke) first discovered their hot tub was a time machine, they decide to travel through time again. This time the best friends head to the year 2025, where they discover their futures aren't what they expected. They travel back to the point in time where things started to go wrong to fix the problem. Tribute fans seem to enjoy the movie, giving it a combined 3.7 star rating. If time travel shenanigans are your thing, click here for showtimes.
Another comedy making its debut is The DUFF starring Mae Whitman, Bella Thorne and Robbie Amell. Who wants to be labelled as the Designated Ugly Fat Friend, a.k.a. the DUFF? Certainly not high school senior Bianca (Mae Whitman), who goes on a mission to turn her social status around by overthrowing the most popular girl in school (Bella Thorne). Tribute fans gave this one an even 3 stars so far. To re-visit high school, click here for showtimes.
Also hitting the big screen today is the sports drama McFarland. Based on a true story, Jim White (Kevin Costner) winds up at McFarland High School in California where the students are predominantly Latino. After struggling to relate to them, he notices their exceptional athletic abilities and builds a championship cross-country team. Over 500 Tribute fans got a chance to see the film at advanced screenings across the country and they've rated it 4.3 stars so far. For showtimes, click here. Watch our interview with Jim White by clicking here.
Opening today in Victoria is the psychological thriller The Babadook. Six years after her husband's death, Amelia is struggling to raise her six-year-old son Sam alone. One night Sam asks his mother to read him the story of Mister Babadook — but this is no ordinary children's book. Once someone becomes aware of the Babadook, it torments them indefinitely. Amelia pays little attention to her son's imaginary monster, but when strange events begin happening she quickly realizes the creature might be very real after all. Click here for showtimes if you live in Victoria. Moviegoers in Toronto will get to see this film starting March 6th.
Check out the trailers for all four movies opening today, Feb. 20:
Hot Tub Time Machine 2
The DUFF
McFarland
The Babadook
Short and sweet, that's it for this week's releases! Make sure to come back after you see a movie and give it a rating and review here on Tribute.ca – which movie are you looking forward to seeing? ~Sandra D. Sukraj