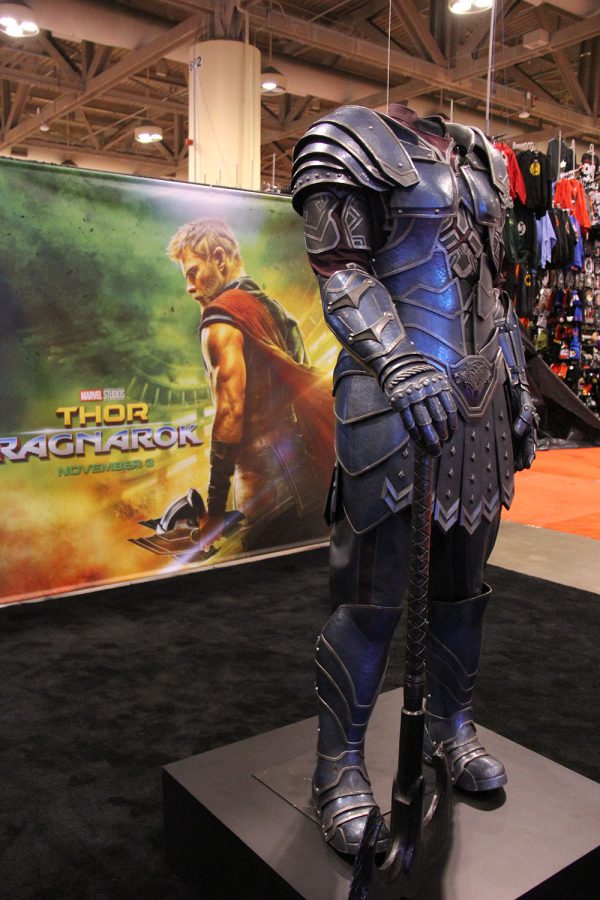 Marvel's next highly-anticipated movie is the third sequel in the Thor set of films — Thor: Ragnarok — and this year's edition of Toronto's Fan Expo gives fans a chance to check out the actual costumes used in the film!
In Thor: Ragnarok, the trapped God of Thunder fights to escape his prison on the other side of the universe to take on new and powerful foe Hela, who is determined to destroy his home world of Asgard and its people.
The exhibit features several elaborate and intricate costumes worn by actors playing the main characters, including the villainous Hela (Cate Blanchett), trickster Loki (Tom Hiddleston) and even Thor (Chris Hemsworth) himself!
Other character costumes include the threads of Grandmaster (Jeff Goldblum), Valkyrie (Tessa Thompson) and Skurge (Karl Urban). Character props and weapons are also being featured, such as Skurge's axe, Valkyrie's daggers, Thor's helmet and swords, and Hulk's (Mark Ruffalo) hammer and axe.
Designed by award-winning costumer Mayes Rubeo — who also designed outfits for Avatar — these detailed costumes are only on display at Fan Expo, which means this is the only place Canadian fans of the franchise can catch an up-close and personal glimpse.
Fan Expo runs until Sept. 3 at the Metro Toronto Convention Centre and gives film, TV and comic book fans the chance to meet and greet their favorite actors, cosplayers and artists as well as sit in on panels and revel in the vast amount of related merchandise!
Check back for more of our coverage on this exciting yearly event and make sure to mark your calendars for Nov. 3, when Thor: Ragnarok hits theaters! ~Alexa Caruso. Photos by Joanne Chu-Fook.