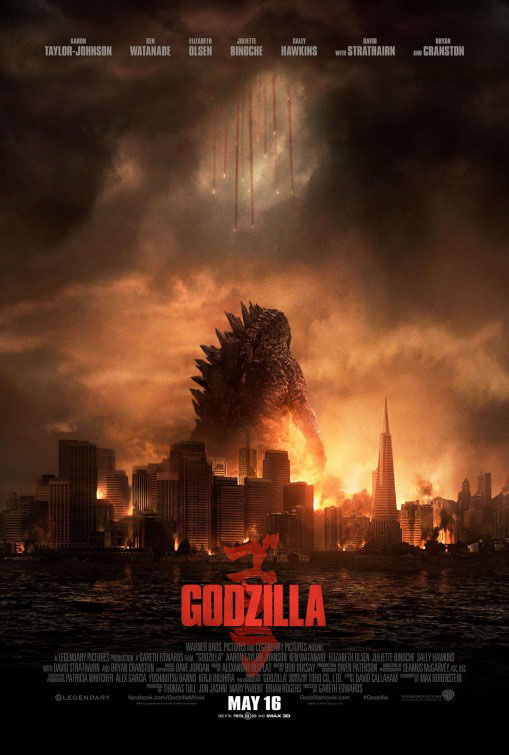 With this week coming to an end, here are the top 10 trailers that our Tribute fans can't get enough of.
1)Godzilla
2)Neighbors
3)Million Dollar Arm
4)The Other Woman
5)Transformers: Age of Extinction
6)Heaven is for Real
7)Interstellar
8 )Moms' Night Out
9)Cinderella
10)Legends of Oz: Dorothy's Return
1) Godzilla trailer: The world famous monster goes up against malevolent creatures who, bolstered by humanity's scientific arrogance, threaten our very existence.
2) Neighbors trailer:
A young couple (Seth Rogen, Rose Byrne) has a tough time when a loud, obnoxious fraternity moves into the neighborhood.
3) Million Dollar Arm trailer:
An American sports agent (Jon Hamm) attempts to save his failing career by traveling to India to find the next baseball sensation.

4)The Other Woman trailer:
When a woman (Cameron Diaz) discovers the man she's dating is not only married but cheating on her as well, she teams up with the other women for revenge.
5) Transformers: Age of Extinction trailer:
A sequel to Transformers: Dark of the Moon, the film takes place four years after an epic battle leaves Chicago torn, but the world has been saved. Autobots and Decepticons are no longer wanted on Earth by humans and have gone into hiding.
6) Heaven is for Real trailer:
When a little boy wakes up from surgery claiming to have seen Jesus, his parents don't believe him – until he tells them things he couldn't possibly know.
7)Interstellar trailer:
A group of scientists travel through a wormhole in outer space into another dimension.
8 )Moms' Night Out trailer:
When exhausted mom Allyson (Sarah Drew) and her friends plan a peaceful night, they run into trouble at every turn.
9) Cinderella trailer:
When Ella's (Lily James) father unexpectedly passes away, she finds herself at the mercy of a cruel new stepmother (Cate Blanchett) and her daughters Anastasia (Holliday Grainger) and Drisella (Sophie McShera).
10)Legends of Oz: Dorothy's Return trailer:
Dorothy wakes up in Kansas to find it devastated by the tornado that had whisked her away to the magical Land of Oz.