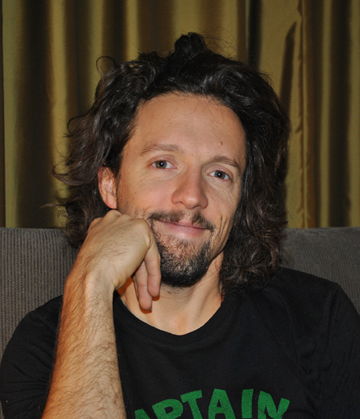 Singer/songwriter Jason Mraz achieved a great deal of success with his song "I'm Yours" from the album "We Sing. We Dance. We Steal Things," which won two Grammys in 2010. "I'm Yours" set the record as the longest-running song on Billboard's "Hot 100" in the 51-year history of the chart and his new single "I Won't Give Up" debuted at #1 on Billboard's Digital Songs chart one week after it was released in January. It's the first from Jason's highly-anticipated fourth album, "Love is a Four Letter Word." Jason isn't just a talented artist though — he devotes much of his time to charity work and last year, he created the Jason Mraz Foundation. He also recently held a photo contest in which entrants were asked to post a photo to Instagram that best represents what "I Won't Give Up" means to them. Jason selected 25 winners whose photos were unveiled today at New York City's AFA Art Gallery. During an interview with Tribute this week, Jason told us he was going to be at the event and planned to meet all the winners in person, explaining, "The photos will be enlarged and we get to look at them and learn about what each person was feeling when they took it and…I love that."
What does "I Won't Give Up" mean to you personally?
JM: Well, I think it's more than just getting out of bed and going to work the next day. It's really knowing where your edge is, knowing where your limits are and really going for it; having the courage to go one step further or one day further. Whether you're training to run a half marathon or you're trying to lose five pounds. I mean everyone's victories, everyone's challenges matter — doesn't matter the size, and it's knowing what it takes to pull that off and to not actually give up.
Is there anything different about the new album in comparison to your previous albums?
JM: You know, honestly I'd like to say no. Because they still come from the heart – they, as in the songs. In the broad big picture of them, I choose to release some songs that are upbeat and optimistic, colorful. I want the songs to be songs that empower a listener or light that spark or do something to that listener that reminds us to be a little more responsible or awake in life. Or just let the listener see themselves in the work already because they get a sense of relatedness. I've always connected to music because I sense that song knows me, you know? Whenever I hear a song on the radio I'd be like 'Oh man that's who I am' or 'I've been there' or so on. After the success of "I'm Yours" I saw how audiences sang it to each other and how people used the song in their wedding and really took it on to be their own song. It had nothing to do with Jason Mraz and I love that. They don't have to know who I am or who sings the song in order to simply like the song so that's the most that's different about this album — it's that I was a little more conscious in the creation of it to stay out of the picture in a way that everyone can relate to it.
You were named "No. 1 Farmer Under 40" by the Mother Nature Network for your work with your avocado orchard. What did you do with your orchard to earn that distinction?
JM: It's funny you should ask that because avocados do it themselves. When I first bought the place from the man — and I think of the Neil Young song "Old Man"  — I met this old guy in his 80s who unfortunately knew he was going to be passing because he had cancer, so he wanted to sell his farm. He asked, "Do you know anything about avocados, son?" And I said, "No sir" and I thought at that point he's not going to sell it to me. Cause I really just wanted to live out in the woods. And he said, "Well good, 'cause these trees do it all themselves" and he's right you know. You just monitor the water and the trees will produce fruit year after year after year. I learned a little bit more about that since then — you have to prune the trees and also he wasn't growing organically. So transitioning to organic was quite a task and I think that's why I was given the acknowledgement — because I get lots of attention and I can share that light on the importance of organic food and local farms and supporting local famers. Supporting our local farmers is huge because you're keeping your money in the community and helping farmers work hard at growing good quality food and you're being better to your body.
Is it difficult to maintain a vegan lifestyle on tour?
JM: It is, because I really love ice cream. In Los Angeles there's a place called Kind Cream that does vegan ice cream. All of their flavors are extraordinary and it's all dairy-free made with organic ingredients and it makes me wonder why all products aren't like that. If you can create products that are healthy and actually are good — I hate to use the term "good for the body," but good with the body — why not make all products that way? Then we would have less medical needs because food would become our medicine rather than a deterrent or a poison. So I would say yes, it is difficult, but more and more places are starting to pop up that serve whole and natural foods and I have the good fortune of traveling with a small army of people who share that same mission and hit local farmers' markets and search online to find the organic foods stores or little restaurants nearby that serve vegan cuisine. So I'm very fortunate in that.
You've travelled to Ghana to help rescue child slaves and to Antarctica with the Climate Reality Project. Which cause would you like to bring attention to next?
JM: You know, here in Canada you guys have two extraordinary human beings by the name of Craig and Marc Kielburger, they started Free the Children and I had a chance to pal around with them right during the height of "I'm Yours" and see the work they were doing and how they've inspired millions of kids in Canada to make a difference in the world. I've wanted to help bring their organization to the States because I think what they do in Canada is extraordinary. They've invited me to go to Kenya to participate and I've yet to have that opportunity, so I think some day I would like to go.
Jason will begin touring in late summer and though the dates haven't yet been confirmed, he'll be coming to Canada to play in several cities, including Toronto, Vancouver and Montreal. His single "I Won't Give Up" is currently available for digital download and the album "Love is a Four Letter Word" will be released April 17th.  ~Alexandra Heilbron