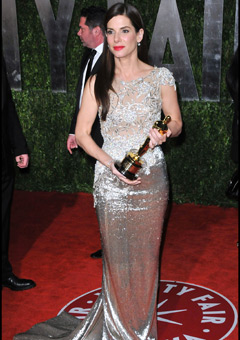 Despite Sandra Bullock's current marital woes with husband Jesse James, The Blind Side Oscar winner continues to be popular with tribute.ca users. Find out what Jesse James really thought about Sandra Bullock as a blonde: watch her Blind Side interview.
In a recent poll, we asked who you thought was the Best Dressed at this year's Oscars and Bullock's champagne gown by Marchesa was the hands down winner.
In second place was Penelope Cruz, who wore a Donna Karan gown and Cameron Diaz slipped into third position wowing our readers with her Oscar de la Renta gown.
See your Top Ten Oscar Best Dresses list below.
1. Sandra Bullock
2. Penelope Cruz
3. Cameron Diaz
4. Demi Moore
5. Kristen Stewart
6. Jennifer Lopez
7. Carey Mulligan
8. Charlize Theron
9. Kathryn Bigelow
10. Mo'Nique