Women In Film
By A A on September 18, 2007 | Leave a Comment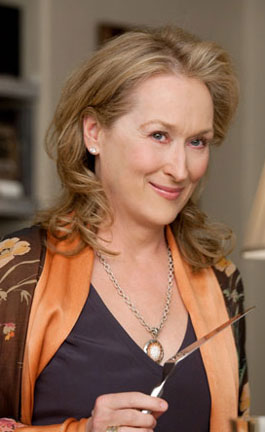 From fierce power tripping portrayals to passionate love scenes, the female role in Hollywood has become a force to be reckoned with. In an industry once dominated by males, women have given us some of the most enjoyable and finest moments in film. Watch these ladies in some of their best on-screen moments.
Powerful Women
They're assertive, powerful and pack a mean punch when it comes to getting what they want. But it doesn't always take handling a machine like Angelina Jolie in Mr. & Mrs. Smith or a sword-toting Lucy Liu in Kill Bill for a woman to get her point across.  In Meryl Streep's case, it only takes two words, "That's all" to send a quiver up your spine.
Check out these leading ladies in their finest power-tripping moments:
Meryl Streep in The Devil Wears Prada
Andrea Sachs (Anne Hathaway), a small-town girl working as an assistant, tries to survive her impossibly demanding new boss — high-powered fashion magazine editor Miranda Priestly (Meryl Streep). Based on the best-selling novel by Lauren Weisberger.
Angelina Jolie in Mr. & Mrs. Smith
John and Jane Smith are an ordinary suburban couple with an ordinary, lifeless suburban marriage. But each is hiding something the other would kill to know: Mr. and Mrs. Smith are actually highly paid, incredibly efficient assassins, and they work for competing organizations.
Mr. and Mrs. Smith discover a new source of excitement in their marriage, when they're hired to assassinate each other… and that's when the real fun starts. The result is the ultimate action spectacle, as Mr. and Mrs. Smith put their formidable skills to work and their marriage to the ultimate test.
Lucy Liu in Kill Bill Vol 1
The Bride (Thurman) was once part of a group of world class assassins until her boss, Bill (Carradine) shoots her on her wedding day, leaving herself and her wedding guests for dead.
She survives and after being in a coma for four years, she wakes to seek revenge on her co-workers and her boss who had attacked her. She sets out to strike down her once fellow assassins, leaving Bill for last.
The Romantic
It wouldn't be a love scene without some type of yearning for the man you can't have. And of course, the love scene wouldn't be complete without that passionate kiss à la Rachel McAdams, or in Reese Witherspoon's case, a lightening bolt. Hollywood's leading ladies turn love into a completely agonizing I-just-can't-live-without-you romantic affair.
Check out these leading ladies in their fine romantic moments:
Rachel McAdams in The Notebook
A man (James Garner) reads from his faded notebook to a woman in a nursing home (Gena Rowlands). The story he tells follows the lives of two North Carolina teens from very different worlds (Ryan Gosling, Rachel McAdams). Though her upbringing takes place in an antebellum mansion and he grew up in the kind of house where musicians jam on the porch, that doesn't stop Noah and Allie from spending one indelible summer together before they are separated, first by her parents and then by WWII.
Reese Witherspoon in Sweet Home Alabama
New York fashion designer Melanie Carmichael (Witherspoon) suddenly finds herself engaged to the city's most eligible bachelor (Dempsey). But Melanie's past holds many secrets, including Jake (Lucas), the redneck husband she married in high school, who refuses to divorce her. Bound and determined to end their contentious relationship once and for all, Melanie sneaks back home to Alabama to confront her past, only to discover that you can take the girl out of the South, but you can never take the South out of the girl.
Kate Winslet in Titanic
Rose DeWitt Bukater (Kate Winslet) is a 17-year-old, upper-class American suffocating under the rigid confines and expectations of Edwardian society who falls for a free-spirited young steerage passenger named Jack Dawson (Leonardo DiCaprio). Once he opens her eyes to the world that lies outside her gilded cage, Rose and Jack's forbidden love begins a powerful mystery that ultimately echoes across the years into the present. Nothing on earth is going to come between them — not even something as unimaginable as the sinking of Titanic.
The Break-Up Survivor
Some break-ups just don't go over well. According to these leading ladies, fellows just don't seem to get it. Who better to uphold the saying,  "Hell hath no fury like a woman scorned" then Glenn Close's character in Fatal Attraction.
Check out these furious ladies in fine, fighting form:
Glenn Close in Fatal Attraction
At a Manhattan book launch, successful lawyer Dan Gallagher meets editor Alex Forrest (Glenn Close). They're thrown together the next day due to a business crisis, and when they go out for drinks, something develops between the two. Dan has a weekend affair with Alex while his wife is out of town with their daughter, visiting her parents.
Dan wants to get on with his life after the weekend, but Alex turns out to be very clingy, first attempting suicide and then stalking him. When it comes to getting him for herself, it appears she will stop at nothing.
Jennifer Aniston in The Break-Up
Pushed to the breaking-up point after their latest "why can't you do this one little thing for me?" argument, art dealer Brooke (Jennifer Aniston) calls it quits with her boyfriend, Gary (Vince Vaughn), who hosts bus tours of Chicago. What follows is a series of remedies, war tactics, overtures and underminings suggested by the former couple's friends, confidantes and the occasional total stranger. When neither ex is willing to move out of the condo they share, the only solution is to continue living as hostile roommates until somebody caves.
The Comedienne
What can be more attractive than a woman who can make you laugh? From awkward sex scenes to drunken episodes to mocking the other sex, these stars show their comedic sides to be downright hilarious.
Check out these stars in their funny moments:.
Diane Keaton in Something's Gotta Give
Harry Sanborn (Nicholson) is a New York music mogul with a libido much younger than his years. He has the world on a string — and a string of beautiful young girlfriends to prove it. During a romantic rendezvous with his newest girlfriend, Marin (Peet), at her mother's Hamptons beach house, Harry develops chest pains and eventually winds up being nursed by Marin's reluctant mother, Erica Barry (Keaton) — a successful, divorced New York playwright. In the process, Harry develops more heart pangs — the romantic kind — for Erica, a woman who is finally right for him in every way. However, some habits die hard, and when Harry hesitates to pursue Erica, his charming thirty-something doctor (Reeves) becomes smitten with her. Harry undergoes a true change of heart when he fights to win Erica back.
Cameron Diaz in The Holiday
Amanda Woods (Cameron Diaz), the owner of a prospering advertising firm that creates movie trailers, lives in Southern California. Iris Simpkins (Kate Winslet) writes the popular wedding column for London's Daily Telegraph and resides in a charming cottage in the English countryside.
Though Iris and Amanda live 6,000 miles apart, they are in exactly the same place: Just before Christmas, Iris and Amanda decide to take a needed break from the men in their lives — and neither is much in the mood for a nostalgic chorus of "Auld Lang Syne."
Amanda, wanting to get out of town for the holidays, stumbles onto an internet site that specializes in home exchanges, and finds Iris' English cottage to be the perfect antidote to her troubles. On impulse, Amanda and Iris agree to crisscross continents and move into each other's homes for two weeks.
Isla Fisher in Wedding Crashers
John Beckwith (Owen Wilson) and Jeremy Klein (Vince Vaughn) are a pair of divorce mediators who spend their weekends crashing weddings in search of Ms. Right… for a night. But when one of them falls for the engaged daughter (Rachel McAdams) of an influential and eccentric politician (Christopher Walken) at the social event of the year, they get roped into spending a wild weekend at the family's palatial waterfront estate and quickly finding themselves in over their heads.
---
---
---