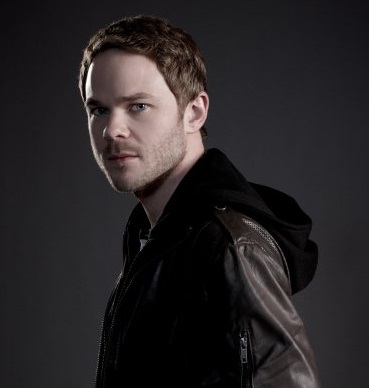 You've seen him freeze his enemies and even grow into a soldier (with a beard!) over the last 14 years. Shawn Ashmore is better known as Iceman/Bobby Drake in the X-Men franchise. This Canadian actor has been busy, whether returning to his Iceman role in X-Men: Days of Future Past, which is available today for home release, or filming his TV series The Following. We had a chance to catch up with him to discuss the evolution of his character and what it was like shooting on home turf. ~Marriska Fernandes

How has Iceman evolved since the first movie, which was about 14 years ago?
I think it's the big evolution, and it's pretty clear in the film, I mean Bobby starts out as a student and as the second and third movie progressed he became a team member, part of the X-Men. In X-Men: Days of Future Past, I think all of the surviving mutants are soldiers. They're no longer living, they're surviving. So, to me, that's the big progression – Bobby went from student to team member to soldier.
And that's a big step, big maturity, and I wanted that to be very evident. Even visually, when we see Bobby for the first time and that's why I felt the facial hair was a good idea. It physically aged me from the last time that people saw the character in X-Men: The Last Stand, but also it tells a story. These characters don't have time to groom, it's not something like they wake up in the morning and they have a shower and they shave. Life has changed significantly for these characters since we last saw them, so I thought that was important.
What was it like working with Bryan Singer again?
Oh, it was great. X-Men Days of Future Past is such a huge and important storyline to the X-Men and I think Bryan was the perfect person to come and tell that story. He obviously was a driving force behind this franchise and I don't think anybody cares more about these characters and these storylines than Bryan does. That being said too, as an actor it was nice because I think for all of us who had been a part of the trilogy chose to play these parts, so there's a level of trust and shorthand since we've worked together that makes it easier to come onto a big film like this and to just jump in and get back to the storytelling. It was really great having him back.
You had the opportunity to work alongside actors like Sir Ian McKellen, Hugh Jackman and Patrick Stewart. Did you get a chance to interact with them on set or learn anything from them?
Oh yeah, absolutely. I mean, if you're open to it and you're listening and you're watching, every take is an opportunity to learn with them. Especially in the first couple films I would just go to the set even if I wasn't in a scene to watch Ian and Patrick work. They're incredible at what they do – Hugh as well. I think the thing I got right away was how genuine and seriously they took these characters. I mean, these are superheroes, they're comic book characters, but Ian and Patrick and Hugh approached them as if they were doing Shakespeare. They brought that level of intensity and scrutiny to these characters and I think that's a huge part of what makes this franchise and those performances so strong and these characters so iconic. I learned something every day from them — every take, whether being in a scene with them, or watching on the monitors, was a lesson.
A huge part was shot in Montreal, what was it like shooting on home turf in Canada?
I love it! For me, anyways, every single X-Men movie I've made has been in Canada. The first one was in Toronto, X-Men 2 and 3 was in Vancouver and Days of Future Past was in Montreal. It's great, I love being home, I love working in Canada. We have great crews and great locations. It was nice. It's close enough to Toronto that some of my family came to visit, which was awesome.
What struggles did you face when trying to get your foot in the door in Hollywood?
I think my experience mimics a lot of Canadian actors who have tried to go down to the United States. I think the good thing and what we have working for us in Canada is, and especially for me working at a young age, there was no giant pressure to succeed. There was never a, "this is your star-making role" and if this doesn't perform at the box office or you don't get huge attention for it then people sort of forget about you. I think in Canada it's more about just being a working actor and, as a young actor, being able to be a part of a lot of projects and just sort of experimenting. And failing – being able to fail and not having that be your one opportunity.
So by the time I went down to Los Angeles I'd been working as an actor for about 10 years. I'd done some good performances, I'd done some bad performances, I'd been a part of things that had been successful, things that have failed and I'd learned a lot. I was very comfortable on set, I was very comfortable in a lot of different circumstances and I think that's a big benefit when going down to the States. I meet a lot of young actors who are very talented, real raw talent, but they'd never been on set before or they really weren't comfortable auditioning. It was like, "Oh, this is my fifth audition" and they're auditioning or testing for a giant television series. It's very nerve-wracking and I think there's something about having that experience under your belt. So, for me, that was my experience transitioning from Canada to the U.S., I think I had a lot more experience under my belt.
Which of your roles has been the most challenging and why?
I've been challenged by a bunch of roles, but I always come back to this one. It was the most challenging, but probably the most rewarding. I was playing Terry Fox. I was completely terrified to play that character, obviously, because he's a Canadian icon, he's on the Loonie. It was just a big deal and I really felt like if I screwed this part up, if I don't nail this role I might not be allowed back in Canada, so I was a little afraid to not do justice to that role. In hindsight, it was one of the best decisions I ever made. As an actor it pushed me to places I had never been before and the end product was something that I'm so proud of. That was definitely one of the most rewarding roles I've ever played.
You can watch Shawn in X-Men: Days of Future Past, which is now available on Deluxe Edition Blu-ray, Blu-ray and DVD. Other Blu-ray/DVD releases this week include Mr. Peabody & Sherman, Sharknado 2: The Second One, The Prince, Tom at the Farm and Venus in Fur.