André Holland Biography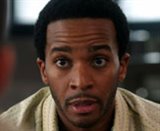 Born: December 28, 1979

Date of Birth: December 28, 1979
André Holland is an American actor who has appeared in numerous hit television shows, including The Knick and American Horror Story, as well as prestige films such as 42 (2013), Selma (2014), and Moonlight (2016).
Born in Bessemer, Alabama, André's first stage performance was at the age of 11 in the Birmingham Summerfest Theatre's production of Oliver. He later attended both Florida State University and New York University's Tisch School of the Arts, receiving a Master of Fine Arts degree in Acting in 2006 from the latter.
André began his career appearing in various New York theater productions, including The Blue Door and Whip Out. In 2006, he earned his first onscreen role as a guest star on Law & Order. He then appeared on the NBC drama series The Black Donnellys, followed by a role in the TV movie The News.
While still working steadily in theater and on television, André struggled to find any work on the big screen. However, in 2008, he made his feature film debut in the sports drama Sugar. This small part as Brad would help jump start the young actor's introduction to film; and the following year, he landed roles in Miracle at St. Anna (2008), Last Call (2008) and Bride Wars (2009), starring Anne Hathaway and Kate Hudson.
Despite earning bit parts in several short films and television movies throughout the next couple of years, André continued searching for meatier roles that would really showcase his talent. In 2011, he began work on the comedy series Friends with Benefits. His hilarious performance as Julian "Fitz" Fitzgerald would help him join another comedy series, 1600 Penn. Although both series were short lived, they succeeded in providing André with the exposure he needed to land some of the biggest roles of his career.
First, André was cast as sportswriter Wendell Smith in the critically acclaimed sports drama 42 (2013), alongside Chadwick Boseman and Harrison Ford. He then portrayed politician and activist Andrew Young in the Oscar-winning period drama Selma (2014). André had finally begun finding roles that spoke to him as a performer. But he wasn't only finding success on the silver screen, he also secured a starring role on the Cinemax drama series The Knick. For his performance as Dr. Algernon Edwards opposite Clive Owen, André earned a Critic's Choice Award nomination for Best Supporting Actor in a Drama Series.
In 2016, André appeared alongside Trevante Rhodes and Mahershala Ali in the much-buzzed-about drama Moonlight (2016). Directed by Barry Jenkins, the film follows a young black man named Chiron (played by Rhodes) as he attempts to come out as gay while growing up in a dangerous and drug-addled Miami neighborhood. André played Kevin, Chiron's childhood friend, and his first love. In an interview with Esquire in 2016, André revealed that he only selects projects that will "bring him joy as an artist," and he stated Moonlight was just that for him. "Stories like these, it doesn't really matter. Just to be a part of the thing, and support the telling of the story is paramount. I just believe in [Moonlight's story] wholeheartedly. It was undeniable. When I first read [the script], I was weeping half way through it. It was the best thing I've ever read."
Along with The Knick and Moonlight, the talented actor can also be seen as Matt Miller in the latest season of Ryan Murphy's anthology series American Horror Story: Roanoke. On the big screen, he most recently played Principal Jenkins in the film adaptation of Madeleine L'Engle's classic novel A Wrinkle in Time (2018), opposite Oprah Winfrey.