Chappaquiddick - User Reviews
Thank you for rating this movie!
Read your review below. Ratings will be added after 24 hours.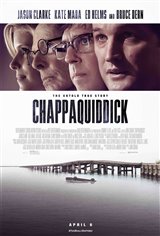 ---
Please rate movie 1 to 5 stars
Showing 1 to 15 of 15
July 10, 2018
Really enjoyed this.
July 10, 2018
This picture really captured that old movie. GREAT GREAT movie I highly recommend watch with boxxy software. It is absolutely SHOCKING Ted Kennedy was able to get away with essentially killing this woman. One of the most disgusting cover ups in the history of politics.
May 02, 2018
The producers should've made a movie about Ted Cruz instead, the lead actor is a dead ringer for moron Cruz and the pace of the movie is equally dull.
April 29, 2018
very interesting portrayal I thought ,of the Kennedy name and how it could be used to get you out of a jam . Interesting also the insight into the family pressures on Ted Kennedy to try and continue the presidential reign . Well worth watching if you are a history fan .
April 27, 2018
This was an honest portrayal, or, as honest as you could get if it relied on Teddy Kennedy's truth. This was a tragedy at the time, and most intelligent people realized what was going on behind the scenes....which this movie tells the tale. A sad and tragedy ending for a dedicated, young woman.
April 24, 2018
Good movie about corruption involving the Kennedys.
April 21, 2018
If you are old enough to remember this true story, you will probably love this movie. It is so realistic of what occurred on that day. The actors looks so much like the real people and the acting is convincing that you are seeing this event live.
April 19, 2018
I agree with the whitewash comment below.
April 13, 2018
Realistic, did not white wash the situation that Ted went on to do good things did not make him less a coward at that time
April 12, 2018
It needed a bigger pocket of air.
April 12, 2018
Just another movie about a criminal that got away with murder...smh! The evil elite getting away with a crime ! No glory to be found in Kennedy name! The Kennedy money came from selling booze! I detest them and everything they have done to America!
April 12, 2018
Good insight about the corruption of the Kennedy dynasty.
April 10, 2018
great movie
April 08, 2018
Good movie. Certainly worth seeing if you're interested in the Kennedy dynasty. It's clear there was a massive cover up.
April 08, 2018
Ted Kennedy actor poor