Ford v Ferrari - User Reviews
Thank you for rating this movie!
Read your review below. Ratings will be added after 24 hours.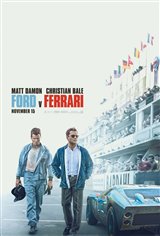 4.67 / 5
User Rating
Based on 1028 votes and 156 reviews
---
Please rate movie 1 to 5 stars
Showing 101 to 150 of 156
November 24, 2019
It was SOOOOOOOOO Terrific, must see...
November 24, 2019
One of the best movies I've ever seen!
November 23, 2019
The sound is AMAZING....you feel like you are right there in the race, BEST movie I have seen in 2 or 3 years!
November 22, 2019
Edge of my seat most of the time!
November 22, 2019
Must see for racing fans and not. My wife, who is not a car person, loved the movie. I read about this, real time, when in high school. This movie is true to what I read then and filled in some blanks. Great racing scenes!
November 22, 2019
The movie was very well done and the actors were well suited to their roles. I enjoyed the fact that it concentrated on the players rather than the cars, which is really the heart of the story!
November 21, 2019
This picture is worth seeing, one of the best picture of the year. Great movie!
November 20, 2019
Absolutely loved it! Amazing film! Best movie I've seen all year.
November 20, 2019
Excellent worth the money to see
November 20, 2019
Great action story about determination and skill as applied to automotive engineering and driving.
November 20, 2019
Well done movie A different kind of movie from the usual
November 20, 2019
Great Movie. A Great Documentary of Caroll Shelby and how Ford beat Ferrari in the 24 hours of Le Mans
November 19, 2019
It's rare that a movie this good disappoints, but I guess the overhyping had me expecting better. Still, it's quite good. GuruBob says 83/100
November 19, 2019
This movie will get some Oscar nominations. Anyone who has worked at a large company or institution will relate. It's about the corporate head office people vs. the guys on the ground who actually get things done. And how the top executives don't actually care about the company or product, just their egos. Christian Bale will get an Oscar nomination for sure, the director as well. The racing scenes are outstanding. It's a spectacle of 1960s fashion and imagery...pure coolness. (Don't sit close to the screen...the car racing scenes will give you a headache.)
November 19, 2019
Excellent story, well acted, great pace and story telling. Racing scenes made you feel like you were there. Damon and Bale are good story tellers.
November 19, 2019
Wow this movie exceeded expectations. Great true story with lots of action. Found myself gripping my seat in some of those race | crash scenes. One of the best of the year.
November 18, 2019
It was a very great movie with action and good historical meaning and it didn't drag on but was a good setup for historical events.
November 18, 2019
Wonderful movie. Great acting also.
November 18, 2019
Wonderful
November 18, 2019
Loved it all
November 18, 2019
Brilliant movie, well acted, true story, exciting race cars scenes. This is movie making at its best.
November 18, 2019
Wow! I accelerated, braked, changed gears. I was hot and my heart was pounding. I loved it! I loooved it! And both actors are awesome. If I had to choose the one who deserves the Oscar for best lead actor, I wouldn't know which one to choose. I think I would give it to both of them. Go and see it as fast as race cars!
November 18, 2019
Great story. More than a car movie and fairly true to reality. Does a great job capturing the intrigue of overcoming the corporate types at Ford to build an American race car that handily defeated Ferrari and their previously unstoppable machine. Best part was it was done by a bunch of unsophisticated hot rodders from Southern California led by a cantankerous Texan. Will be going again with friends we told about it.
November 18, 2019
MUST SEE !!! Love a True Story and a movie that feeds your hunger for a great Motion Picture. Best acting and more action without the violence. Matt Damon and Christian Bales have Top the charts on this one for sure.
November 18, 2019
4.5 stars. Worth going to the theatre for. Great acting, great story. My only criticism (and it wasn't a big deal) would be the portrayal of the racing itself. A bit too fast n furious. Other than that it was great.
November 17, 2019
What good will it be for someone to gain the whole world, yet forfeit their soul? that Henry Ford II in a nut shell, if this is accurate to the story then he was a wicked evil person, and screwed around with Carol Shelby, so this is a excellent movie that i have seen in years and other great movie from director James Mangold, but this is not a feel good movie but done very well, would see it again
November 17, 2019
I have been a Shelby fan for years. Have owned for 40 years a gt350 and have a Cobra replica. I know the history of what happened in this movie. So I already knew how the races would end. It was an accurate portrayal of things for the most part but of course some things had to be exaggerated. Time lines were off a little also . Been a member of the Shelby American Automobile Club for many years and have seen most of these cars at various club functions. Find it amazing that after more than 50 years this event is more popular than it ever was and is now a popular movie. More people will now know the effort that went into fielding a successful racing team capable of beating Ferrari. I would've like to have seen more of the successful racing that led up to this victory. The winning of the Sports Car titles by Shelby's Cobras and GT 350s . But I guess that would've made the movie 5 hours long.
November 17, 2019
Loved this movie! It was one of the best I've seen in ages!! No sex or violence and a true story with real life action and thrills! Christian Bales and Matt Daemon were perfectly cast and did an awesome job!
November 17, 2019
my friend sister and brother in law saw the movie last night they had liked it
November 17, 2019
Already knew the true story and what happened.. good to see it in film and a great job! DONT SEE TERMINATOR WAS AEFUL!!
November 17, 2019
Wasn't sure I needed to see this movie in the theatre but based on the strength of the reviews on tribute.ca I decided to go. Boy am I glad I did. The final race had me on the edge of my seat and the acting was fabulous.
November 17, 2019
Good movie with some good acting.
November 17, 2019
Excellent movie. Super acting. Loved it.
November 17, 2019
I think it deserves a 10 and I would see it again. Thrilling action that keeps you in your seat on the edge. Oscar winner for both Matt Damon and Christian Bales. Loved It.
November 17, 2019
Acting chemistry great!!
November 17, 2019
acting was excellent, visuals were outstanding and the story was interesting as hell.
November 17, 2019
Loved this true to life movie! Great contender for best movie of the year!
November 17, 2019
Ill give this movie 5 stars cause I actually felt like I got my monies worth!! haven't seen a movie in years where I could actually say that!!! go see it I recommend
November 16, 2019
Great Movie
November 16, 2019
Love this movie
November 16, 2019
Fantastic film ! Both Bale and Damon were awesome in their roles . I thoroughly enjoyed everything about this flick , the story , acting and the racing scenes . Loved it !
November 16, 2019
First off, I've raced motorcycles and am your basic gearhead so I may over analyze the racing action so that's actually a negative for me when I viewed the movie as I become too critical of the level of realty of the racing. They make you think that shifting gears let's the audience know that the car is about to faster. Otherwise the story was great and the actors all seemed well portrayed for their respective roles. Good entertainment other than my initial caveat for gearheads.
November 16, 2019
LOVED IT!! GREAT ASSEMBLY of ACTORS!! NEVER A DULL MOMENT. KEPT YOU INTERESTED. VERY ENTERTAINING. WILL DEFINITELY BUY WHEN AVAILABLE ON DVD!!!! GO SEE IT!!!
November 16, 2019
Good flick especially for folks familiar with the era. Good story with fine racing drama at the end. Almost no cg effects which I liked. Learned a lot about what actually happened between Ford and Ferrari. I thought the fellow who played Enzo Ferrari was especially good. See it
November 16, 2019
I was so happy about seeing this I cried all the way home and almost drove my Mustang into a wall. the cops pulled me over on suspected distracted driving and when I told them about the movie and what happened I learned that they were both Ford men and they let me go. I liked it almost as much as Corelli's mandolin from years ago.
November 16, 2019
Great movie.
November 16, 2019
Wow. Wow. Wow. I had to consciously slow my heart rate watching this absolutely electrifying film. And I cried... Just an incredible film on a big screen.
November 16, 2019
Awesome movie, historically correct, will watch it again. It shows that with good all American ingenuity, determination and guts, Shelby, Hill and Ford's engineers and funding they were able to beat Ferrari at their game in just a couple of years. Great acting and cast. Funniest part for me was when Shelby gave Henry Ford II a ride on his $9 million dollar investment.
November 15, 2019
Very entertaining
November 15, 2019
I liked this movie very much. Bail and Damon play Hill and Shelby to perfection. The movie also outlines what's wrong with corporate America and it's auto industry. Makes Iacocca look a bit weaselish.