Mission: Impossible - Fallout
Thank you for rating this movie!
Read your review below. Ratings will be added after 24 hours.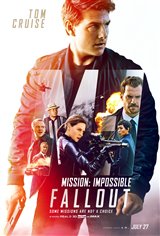 3.95 / 5
User Rating
Based on 874 votes and 240 reviews
---
Please rate movie 1 to 5 stars
Showing 1 to 50 of 240
October 02, 2020
One of the best movies in the whole MI franchise.
January 09, 2020
The movie itself was amazing! However it only gets 3 stars for the coarse language. Not only was it more frequent, but the words they used were a lot coarser. If there's another one coming out, try to make the script just a little bit cleaner please...
February 24, 2019
MI is the rare franchise which gets better and better with more sequels.
February 08, 2019
I FWD most of this movie. It's like it was made according a "how to make an action movie" In Mrs. Grady's Junior high film class.
February 01, 2019
The movie was great. I thought the movie was terrible to watch when i saw the trailer before it came out.
November 30, 2018
Avoid all the stupid low rated reviews, people always want to find a reason to hate something. It might not be the best MI but it's still entertaining. Good action movie
November 27, 2018
Exactly what I expected and more. Enough action throughout and enough mystery to keep you interested and see it to the end. The only distractions from these reviews are from "hate Tom" critics, who probably lead quiet lives of desperation and live only to bemoan an actor who works very hard to bring life into these films. Loved the movie. Hate the couch potatoes ne'er do wells though.
November 24, 2018
Enough said...TC is in it.
November 09, 2018
Tom disappoints once again.
October 29, 2018
Decided to wait until it was playing at the cheap theater....wasn't even worth it. Tom is so boring.
October 23, 2018
Cool and creative action movie!
October 14, 2018
Good from beginning to end, action, action, action!!!!! and AWESOME!!!!!!!!!!!!!
October 14, 2018
waste of your time!!!!!! And money ....
October 14, 2018
Love to see all the action in big screen and TWO THUMBS UP!!!!!!
October 13, 2018
Please stop making movies with the bring Tom cruise.
October 12, 2018
pity you can't give it no stars!
October 10, 2018
Wish someone other than Tom Cruise was in the lead role. He spoils it for me.
October 05, 2018
Tom C is a loser in this movie.
October 02, 2018
If you're not a TC fan, DO NOT go see this...I shouldn't have.
October 02, 2018
I'd rather go to the dentist than go see another movie with Tom Cruise in it.
September 29, 2018
I love the Mission Impossible franchise, it encompasses everything James Bond Lacks with his cheesy stunts. I have to give Tom credit for putting so much effort into making this film. The plot was predictable but there was enough fast-paced action to keep me entertained . Some of the scenes were a bit long and drawn out, like the editors didn't know how to narrow it down but overall very enjoyable.
September 27, 2018
Shame I wasted my money on the talentless Tom C.
September 25, 2018
This movie was really good and awesome
September 25, 2018
Henry , the hunk, Cavill was the star in this movie. TC was awful.
September 25, 2018
Real bad ….
September 25, 2018
Loved this movie.........Henry Cavill did a great job as August Walker and ONE WORD AWESOME!!!!!!!!!!!!!
September 25, 2018
Excellent movie! Action packed! Tom Cruise at his best!
September 24, 2018
Loved it! So much action! and Great. A must see for Tom Cruise fans.
September 23, 2018
Time to hang up your so-called acting abilities Tom...
September 23, 2018
TWO THUMBS UP!!!!!!!!!!
September 22, 2018
I can almost guarantee you everyone came to watch this movie NOT because TC was in it, but Henry Cavill!!!
September 22, 2018
Great stunts! If for no other reason they make the film worth seeing. But I thoroughly enjoyed the film and am seeing it again for that Big Screen effect.
September 21, 2018
Sad to say, but there's 2 hours of my life I can't get back because of TC.
September 21, 2018
I love Angela Bassett, She's a really good actress and TWO THUMBS UP!!!!!!!
September 20, 2018
Please people....save your money....it's the same old, same old, Tom Cruise resting face with no emotion.
September 20, 2018
It's a boring movie when Tom Cruise is in it...he's not a good actor at all.
September 19, 2018
Because he is the most hated actor in Hollywood why would anyone waste their time & money to see this idiot!
September 13, 2018
Love Tom in ANYTHING but especially the MI series! Humor action good cast chemistry but maybe add a little more romance so we female fans can pretend it's us👍🏻👍🏻👍🏻👍🏻👍🏻
September 12, 2018
2 hours wasted
September 11, 2018
Loved it
September 08, 2018
Tons of action, great movie - both me and my husband liked it
September 07, 2018
Fantastic star turn by the quintessential action hero who despite the impossibilities (and implausibilies) makes it real AND does most of his own stunts in his mid 50's! Forget his personal picadilos off screen only Tom Cruise could carry this role. Cinematography and masterful flowing editing are the way all in this genre aspire to. Truly gorgeous and extraordinary fil making.
September 07, 2018
I'm shocked that there are so many people saying TC is good in this movie....NO WAY!
September 05, 2018
Good movie ! , If you like the others you'll like this one.
September 05, 2018
Tom is great!!!
September 05, 2018
Tom's best since THE MUMMY.
September 03, 2018
Honestly, this is the last Tom Cruise movie I am going to! He has one expression in EVERY movie he's in and it's getting boring.
September 01, 2018
Take TC out of this movie & it will rate better. Henry Cavill is the star in this one!
September 01, 2018
Anybody that doesn't like this action movie should go and watch fried green tomatoes or beaches again This movie is action Pure action with a great story