Robin Hood (2010) - User Reviews
Thank you for rating this movie!
Read your review below. Ratings will be added after 24 hours.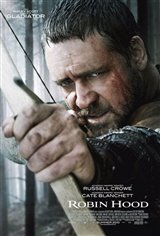 3.90 / 5
User Rating
Based on 881 votes and 254 reviews
---
Please rate movie 1 to 5 stars
Showing 1 to 50 of 254
April 06, 2014
This was a great movie, Ridley Scott and Russell Crowe. Almost like Gladiator... another 10!
March 29, 2011
2 1/2 stars. Sadly I found this a little boring. Filmed beautifully of course, some nice performances, but it appeared to be the ground work for the next movie in the series. About 20 minutes too long.
March 18, 2011
Much better than I expected - loved teh action and comedy!
November 23, 2010
Great entertainment!! - Crowe always delivers!!
November 17, 2010
Very entertaining movie!!!!!
November 10, 2010
I actually enjoyed it. It feels like Gladiator meets Robin Hood. The mood and action was well done. Had a grandiose feel that only 100s of extras can give you (vs CGI armies). It is not your father's Robin Hood and it is more of a prequel to the Robin Hood that we are used to, but it was an enjoyable movie.
November 06, 2010
r.crow preformed great and I hope they continue on
November 04, 2010
Far better than expected. Crowe gives a usual stellar performance. I enjoyed the twist on the old Robin Hood story. THe movie was well acted and written.
October 19, 2010
Good story decent acting ok screen play ending set-up for sequel
October 18, 2010
Fun movie. I loved the action, acting and story. A well crafted movie.
September 27, 2010
Really good movie. Loved teh action and comedic performances.
September 24, 2010
Loved it!!! great fun and action.
September 21, 2010
Been to two movies in 20 years. My wife is a little closterphobic and doesn't like crowds. Indiana Jones the newest one (about a year) highly disappointed. Russel Crowe...Robin Hood...Phenominal!!!! Absolutely LOVED IT!!!!
September 14, 2010
I love period movies so I'm a little partial to this movie! It's a great 'grown up' movie.
September 12, 2010
I loved that this version had a "lady" Marion. You go girl! This film worked on many levels but what ultimately brought it down was the total lack of chemistry between the leads. Such a pity.
September 09, 2010
I loved this story!! Russell Crowe once again,proves he's an A list actor!1
September 05, 2010
great movie
September 04, 2010
A great recreation, Crowe was pewrfect for this.
September 02, 2010
Was worth the investment of time. Russell and Cate were perfect..
August 28, 2010
Why was this film made, except to lose money? 2hours you'll never get back.
August 26, 2010
Not a bad movie.
August 24, 2010
Russell and Cate make a great acting team. Look forward to getting it on DVD!
August 23, 2010
Great acting, accurate story entertaining also. Enjoy!!!
August 19, 2010
I love this movie. It was a great portrayal of Robin Hood. Russel Crowe was the best pick for this movie. He is so masculine and the perfect fit to play Robin Hood! Love it all... hopefully we will all be lucky enough to see a sequel!!
August 18, 2010
VERY DISAPPOINTED. DID NOT HAVE THE FLAIR OF THE OLD ONES.
August 17, 2010
Great movie especially if you enjoy historically based fiction. Very authentic costumes and sets. A believable rendition of this much loved story. Unexpectedly, Crowe and Blanchette do have chemistry and Crowe's charisma and pent up masculinity sizzles. I hated to see this movie end - but it is primed for a sequel. Soon I hope!
August 16, 2010
Disappointment coming from Ridley Scott
August 14, 2010
IF NOT FOR CROWE AND BLANCHETT, THIS WOULD FAIL. DISAPPOINTMENT FORM RIDLEY SCOTT! GOOD CINEMATOGRAPHY BUT LACKING DEPTH!
August 13, 2010
hard to understand their speaking
August 12, 2010
Actually much better than I expected given reviews I had read. That said, can you say Sequel?
August 10, 2010
I really liked this film. Lots of action, comedy and great acting. While its a different take on the traditional Robin Hood story, it's a lot of fun and good entertainment.
July 30, 2010
Great story and wonderfully put together film on a classic fictional character.
July 30, 2010
Russell Crowe has done it again!
July 30, 2010
Good period movie, better than previous attempts
July 30, 2010
I really enjoyed this "new" version of Robin Hood. It was a slightly different take on the classic tale. I thought the cinematography was awesome. I enjoyed seeing Alan Doyle in his role too.
July 30, 2010
Loved this movie and was hoping for another in this series. Russel Crowe did a great job as Robin. Great action scenes and tension build up. Hoping to see the next one should it be made.
July 30, 2010
Not the typical Robin Hood movie. If you enjoyed Batman Begins, you will enjoy this movie. The ending leaves the possibility of sequels wide open.
July 30, 2010
the battle scenes are exciting
July 30, 2010
The glory days of Sherwood Forest and Robin Hood are realistically portrayed in this adventure movie. The authentic scenery and plot are no surprise to most of us while the characters are refreshing and have command of the story.
July 30, 2010
ridley scott, russell crowe, the team that brough you the academy award winning gladiator have done it again, this time in the more realistic telling of one of the most notorious outlaws in history. the action is intense and the acting is great. this brings the story of robin hood to a whole new level.
July 29, 2010
Enjoyed it ! A new story of Robin Hood. Well done!
July 29, 2010
Great movie! Nice to see a different perspective on the whole Robin Hood story.
July 29, 2010
While it's more Braveheart then Robin Hood, it's a necessary step to establish the character for future sequels and as such, it's quite entertaining.
July 29, 2010
It was just ok. Not Russell Crowe's best work!
July 29, 2010
Very different from the other Robin Hood movies. The action scenes look authentic, and it is a good background story on Robin Hood. Don't expect it to be your typical Robin Hood story.
July 28, 2010
good movie, but read the fine print. for those of us that remember the fox cartoon or men in tights.. it says its the beginning. the story is about how he became who he is.. kind of the untold story. it also shows previews looking like brave heart but doesn't provide. still an ok movie though
July 28, 2010
Although great story, casting, and action - there were times when I had to ask myself if I was in Robin Hood or Gladiator. Too many similarities with fight scenes and camera angles and respecting the girl.
July 28, 2010
This is seriously not the robin hood i've known as i grew up but still enjoyed it very much. whether it is the real story or not u can't miss with ridley scott/russell crowe