Sex and the City - User Reviews
Thank you for rating this movie!
Read your review below. Ratings will be added after 24 hours.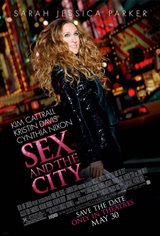 2.78 / 5
User Rating
Based on 14447 votes and 241 reviews
---
Please rate movie 1 to 5 stars
Showing 201 to 241 of 241
May 31, 2008
Very true to the show. It was great!
May 31, 2008
You don't need to have watched the series to LOVE this movie! I wish it was longer!
May 31, 2008
If you love the gals, like I do, you will love the movie. Awesome, sexy, fun and teary. Love you SJP
May 31, 2008
Sex and the City was one of my all time favourite shows. I have all the seasons on DVD and was looking forward to this movie for over a year and.. it DID NOT disappoint! I understand people who aren't big fans of the show not really liking it, but why see it if you aren't a fan of the show??? Don't go see it then! My husband went with my and even he enjoyed the movie and he's barely watched the show with me. All in all, one of the best movies I've seen in a long time! Definitely seeing it again and cannot wait to buy it!
May 31, 2008
The role of Jennifer Hudson's was totally unneccessary. Not important at all. Her speaking lines should have been given to Char. Sam, or Miranda..Movie a little lame and corny but not too bad. Love it when Charlotte farts!
May 31, 2008
An absolute guilty pleasure for SATC fans. Okay, so it's not high art, and it's rather long. But you won't care...it's a visual feast and thoroughly entertaining. That said, most men will hate it.
May 31, 2008
Before you read on, I want you all to know this is coming from a woman's perspective. This film is THE WORST film I have ever seen! Ladies out there, please don't waste your time and money. Unless you're small-minded, dumb and giddy as a school girl, you won't enjoy this! There was absolutely no need for this film to be made. They should have left it alone as a series! If you do go see it, please don't bring your male companions because you won't want to subject them to such a typical, ridiculous female plot. If you won't save yourselves, save your man! What's so great about a bunch of over-aged women wondering what shoes match best with which purse?!!! Absolutely destroys whatever b
May 31, 2008
The perfect movie for the most perfect foursome on TV! A lot of laughters and a lot of tears, but if you're a true fan, you'd enjoy this movie from start to end.
May 31, 2008
EXCELLENT MOVIE
May 31, 2008
Great movie. A little long but over all, excellent!
May 31, 2008
I loved it so much, it was a perfect ending to a fabulous series!
May 31, 2008
the same old stuff...big hurts carrie, carrie forgives big...the movie is just like the show, going round and round in circle.
May 31, 2008
is there anything more grisly looking than sjp?
May 31, 2008
I absolutly loved it! It was one of the best movies I've seen in a very long time!!
May 31, 2008
amazing..best word to describe it.
May 31, 2008
I think they did a great job with a follow up movie to a hit series. Very true to the show.
May 30, 2008
great movie! soo funny..just loved it! any woman would love it!
May 30, 2008
Lame, no plot, just girls running around being you-know-whats. What is so interesting about that? Could just go to a strip bar and ask to stalk the stripper for a day.
May 30, 2008
If you love the show, you'll LOVE this movie! Go with your girlfriends!!
May 30, 2008
As a girl watching this all I can say is wow. Worst. Movie. Ever. I should of stuck to what i always go to see, blood, guns and jokes. To all un-single gals, don't make ur bf's see this tripe. Or at least wait for it to be on dvd and watch it with them naked, so they can have something to watch them selfs. Also...face like a horse.
May 30, 2008
I really enjoyed this movie. Not just the fashion. The characters are true to form. The film has all the elements to create happy and some sad parts..known as drama. No car crashes, no computer generated animation, no special effects. Just people, trying to find their way in a mindfield of feelings and disappointments, yet making life more liveable through supportative friends and keeping the faith.
May 30, 2008
Pales in comparison to the HBO series. Disappointing script.
May 30, 2008
it was absolutely amazing. i went in with high expectations and was not disappointed. however, i think only devout fans will truly be able to appreciate the movie and that's why the critics gave it a so-so rating.
May 30, 2008
Loved it, so funny and entertaining. Everything I was waiting for!
May 30, 2008
A Dissapointment
May 30, 2008
It's like catching up with old friends!
May 30, 2008
Best movie of the year!!!
May 30, 2008
Amazing clothes, very funny, a few tears too! Do not bring children or teens this one is for a more mature crowd!
May 30, 2008
Great movie! Definitely will watch it at least 20 more times! LOVES IT < LOVES IT! :)
May 30, 2008
good movie to watch with friends..
May 30, 2008
very good entertaining... fun .. loved it
May 30, 2008
BEST... LOVE IT
May 30, 2008
GREAT ACTING and Scripting! :))))
May 30, 2008
THE MOVIE was hilarious! Dont expect to like it if you have never watched SATC, cuz in that case you probably dont like it anywayz...Stop giving the movie bad reviews just becuase you too stubborn to admit that you liked a chick flick...My bf went with me and he absolutely loved it. He was laughing during the movie more than i was! :)))))) FIVE STAR MOVIE!
May 30, 2008
IT WAS ABSOLUTELY FABULOUS! I WON'T GIVE OUT ANY DETAILS, BUT IF YOU ARE AN SATC FAN THEN YOU ARE GOING TO LOVE IT!
May 30, 2008
It was the best ending for the show which run for yrs. Lots of memory came back for those girls and our real life. Love it and enjoy it.
May 30, 2008
Loved this movie! Perfect mix of drama, glam, and tears. Great job!
May 30, 2008
hate this movie, what a waste of time and money
May 30, 2008
ONE HOT GOOD MOVIE
May 30, 2008
Went with the Girlfriend to see this plotless money grab and let me say this. If your are female, you'll love it i'm sure cause u love the show for the same unknown reasons i'm sure. Ladies, PLEASE dont make your men see this and save them the pain. I would have rather crashed on the way to the movie and spent time in the hospital (which i'm sure would have been more entertaining)than actually watching it. So to conclude; Enjoy ladies and men, bring a pillow for the most expensive nap you'll have.