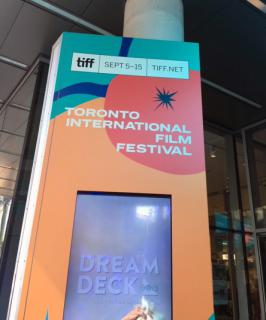 There's still so much to see and do at TIFF with seven days left to watch plenty of films and stars — check out our list of all the Galas and Special Presentations if you'd like to see which movies will have red carpet premieres, and click here for a slideshow of the films you won't want to miss.
Taking place at TIFF Bell Lightbox on the 6th floor at 1 p.m. is Endings, Beginnings: Drake Doremus and Shailene Woodley on their Creative Collaboration. Enjoy a conversation between Drake Doremus, one of today's top contemporary filmmakers, and his Endings, Beginnings (screening at the Festival) lead actor Shailene Woodley, who has propelled to stardom through honest portrayals and a strong female voice. Admission is free.
Two highly anticipated films at TIFF are enjoying Gala Presentation screenings at Roy Thomson Hall. First up is Ford v Ferrari, with Matt Damon, Christian Bale, Catriona Balfe, Jon Bernthal, Tracy Letts, Josh Lucas, Noah Jupe and director James Mangold expected on the red carpet. The screening begins at 5:30 p.m., with red carpet arrivals starting at 4:45 p.m.
Joker, starring Joaquin Phoenix as the beloved Batman villain, screens at Roy Thomson Hall at 9:00 p.m. The red carpet opens at 7:30 p.m. Expect to catch a glimpse of Joaquin Phoenix, Zazie Beetz, Frances Conroy and Todd Phillips. ~Alexandra Heilbron
Tags:
Catriona Balf, Christian Bale, Ford v Ferrari, Joaquin Phoenix, Joker, jon bernthal, matt damon, red carpet, TIFF 2019