Megan Fox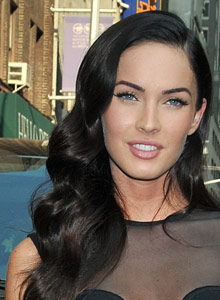 Date of Birth: May 16, 1986
Born in Rockwood, Tennessee, Megan Denise Fox had a love of performing from an early age. She began her training in drama at the age of five, attended a dance class at the local community centre in Tennessee, and was involved in Kingston Elementary School's chorus and the Kingston Clippers swim team. At the age of 10, Fox's parents and older sister moved to Florida where Megan continued to thrive in her training and finished school.
Fox's entry into the limelight started at age 13 when she first began modeling and acting, winning several awards at the 1999 American Modeling and Talent Convention in Hilton Head, South Carolina. But Fox soon found that modeling did not satisfy her thirst for Hollywood, and she began to pursue acting. Her first big break came in 2001 when she made her film debut as Brianna Wallace in the Mary-Kate and Ashley Olsen straight-to-DVD movie, Holiday in the Sun. Following her debut role, Fox landed guest appearances on the tv shows Ocean Ave., What I Like About You, Two and a Half Men, and The Help.
Her breakthrough role came in 2007 when Fox starred opposite Shia Labeouf in the blockbuster hit Transformers (2007). The part transformed her from unknown actress to Hollywood sexpot as she was voted the number 1 sexiest woman by FHM readers in 2008. Fox has also made it on Maxim magazine's Hot 100 list two years in a row (finishing at number 16 in the 2008 list). Hollywood's newest 'It' girl continues to maintain her hold at the top of everyone's hot list with the much anticipated sequel, Transformers: Revenge of the Fallen (2009), set for release in 2009.
Currently, Fox is living in Los Angeles. She has been linked to several Hollywood B-list actors including David Gallagher of 7th Heaven fame, and her ex-fiancé, Brian Austin Green (whose name she has tattooed on her hip, along with eight other tats on various parts of her body).
Megan Fox Gallery:
Filmography:
Transformers: Revenge of the Fallen (2009) 
Jennifer's Body (2009) 
How to Lose Friends & Alienate People (2008) 
Whore (2008) 
Transformers (2007) 
Confessions of a Teenage Drama Queen (2004)