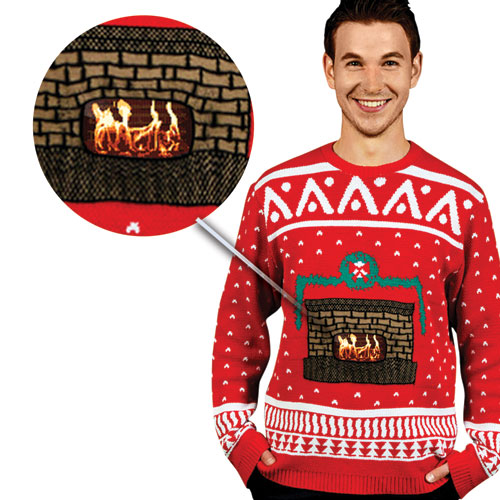 Display your true holiday spirit while virtual warming your hands and melt some hearts with this Knitted Crackling Fireplace Christmas Sweater (Retail value: Cdn $69.99). The festive fireplace design incorporates a hidden pocket for your mobile device which will display an animated crackling flame.
To start the fire, simply tap your mobile device then double tap to extinguish and light the fire!
Double tap to make the action start or stop. Brilliant fun for the build-up to Christmas, Christmas Day itself or your own Ugly Christmas Sweater Party.
Digital Dudz Christmas Sweater will fit most mobile devices up to 5.4" x 2.9" (13.6cm x 7cm) – Please note, the Samsung S6 and iPhone 6+ will NOT fit.
Apple devices must be running iOS 8 or greater. Android must be running Android 4.0 or greater. A free App download is available.
Check out their other crazy but cool Christmas sweaters by clicking here. Choose from Snowglobe Rudolph's Nose, Peeking Santa, Gingerbread Snack, Stuck Santa, Carol Singing Kitty, Santa's Cabin and more.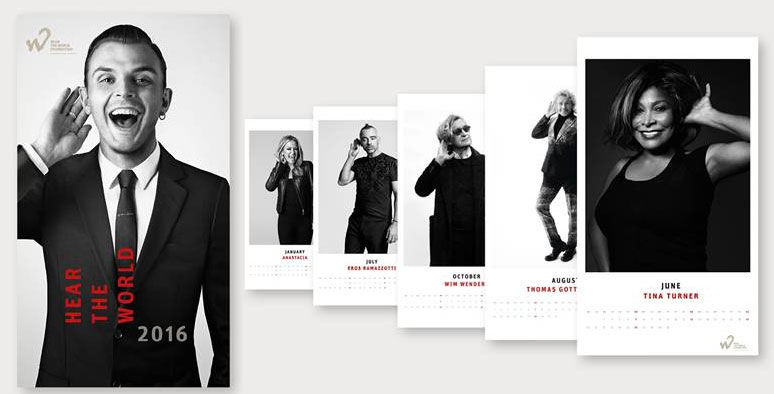 Also in today's giveaway is a Celebrity Calendar featuring Tina Turner, Rosamund Pike, Daphne Guinness, Naomie Harris and Rufus Sewell, to name a few. The calendar goes for $40 through Hear the World Foundation, a Swiss non-profit that supports children with hearing loss by giving grants to groups looking to run hearing healthcare programs globally. The Foundation has supported more than 60 projects across five continents since 2006, and it has already given countless people the chance of better hearing.
To be eligible to win this sweater (size large only) and a Hear the Word Celebrity Calendar (total prize value $109.99), tell us who on your Christmas shopping list would be getting these presents on Christmas from you, or if you want to win the sweater so you can wear it yourself on Christmas, tell us where you are planning to wear it!
Congratulations to Dave Smith of Calgary, who won this Day 2 prize pack!