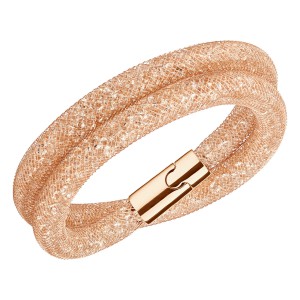 Our 12 Days of Giveaway is here! We are giving away (hold your breath, ladies) Swarovski's Stardust Deluxe Bracelet. I'll have spoonful of sparkles please! Filled with rose gold crystals, this deluxe version of the Stardust Bracelet features a premium metallic fishnet tube for extra sparkle. It can be worn as a double wrap bracelet or choker and is easier than ever to slip on and off, thanks to a sleek new magnetic closure in rose gold PVD metal. Available in two sizes: S (38 cm) and M (40 cm).
To win this bracelet, leave a comment below to tell us what your favorite holiday tradition is.
Don't forget to enter our Day 2 giveaway!
Update: Congratulations to Velma Sandry, who won the Swarovski Bracelet!