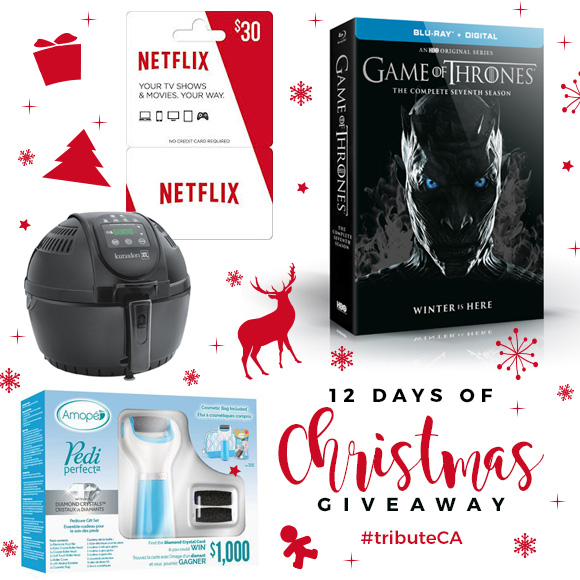 Today's giveaway is a mix of lifestyle and entertainment items that you can keep for yourself or share with family and friends.
First up, from Home Hardware we have a Kuraidori Multi-Function Air Cooker uses high speed hot air circulation to give you oil-free cooking. This is valued at $169.97.
Up next we have two 3-month subscription codes for Netflix Canada (worth $66). With the holiday season, it's said that 67 percent of people globally take their favorite TV and movies with them on the go. If you didn't already know, it's the download feature that keeps you entertained as you travel.
We also have the HBO favorite Game of Thrones Season 7 Blu-ray and Digital HD box set, valued at $99. The box set includes exclusive new bonus content, including Audio Commentaries for every episode, an In-Episode Guide, Histories and Lore, two new behind-the-scenes featurettes and a bonus disc containing Conquest and Rebellion: An Animated History of the Seven Kingdoms, revealing how the world of Westeros came to be.
Lastly, give the gift of skincare with Amopé Pedicure Gift set, which features the Pedi Perfect Electronic Foot File with diamond crystals, at a value of $100. We can vouch for this amazing product, which comes with a selection of three different roller heads to keep even the roughest feet smooth. The gift set includes an electronic foot file, an extra coarse roller head, a coarse roller head, a soft touch roller head, a roller cover, batteries and a cosmetics bag to keep your Pedi Perfect and/or other cosmetics in.
To win this $435 prize pack, simply leave a comment below telling us what was your favorite Netflix or HBO series this year?
Congrats Alison Kwong!