American Made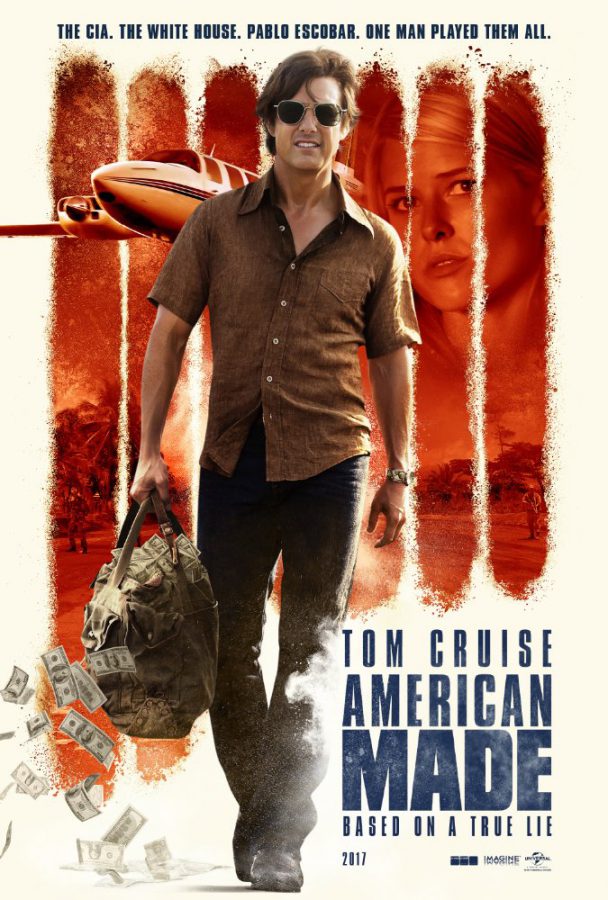 is based on a true story, but it's presented in a tongue-in-cheek fashion rather than as a historical retelling, which makes the film incredibly fresh and highly entertaining.
Tom Cruise plays the lead role of Barry Seal with the perfect amount of joviality and devil-may-care attitude to win audiences over, making it easy to sympathize with the amoral Barry and his many predicaments.
Barry starts off as a TWA commercial pilot who likes to make a little extra on the side by smuggling cigars from Cuba. He also likes to give passengers a little jolt once in a while.
When the CIA gets wind of Barry's illegal activities, they sense he might be willing to cooperate with their undercover operations. An agent (Domhnall Gleeson) approaches Barry, offering him bigger and better money if he'll smuggle items for the government, including bringing guns to the rebel Contras in Nicaragua.
Barry cheerfully agrees to just about anything that will make him money — he's got a young and beautiful wife at home, and he wants to keep her happy.
While in South America, having dropped off goods for the CIA, Barry is approached by drug kingpins, including Pablo Escobar. They're having trouble getting their cocaine into the States, and they feel Barry is the answer. Barry, as always, is agreeable, and comes up with a way to get the drugs into the States without the feds finding out.
The movie is interspersed with entertaining clips of Barry talking to an old camcorder (this film mostly takes place in the 1980s), narrating an account of his exploits with an air of disbelief at his luck.
And he is lucky, there's no doubt about that. He makes more money than he knows what to do with, although he gets into scrape after scrape, not just with the drug lords down south, but with the authorities in his home country. It's a lot of fun to see how he gets out of each predicament, just as you think this is it for good ol' Barry.
Although Seal's exploits are loosely based on a true story (or as the poster says, "Based on a true lie"), the movie offers up the story in an irreverent way that makes the film a fun ride.
If you've seen American Made and would like to give your own review and/or rate it, click here. ~Alexandra Heilbron