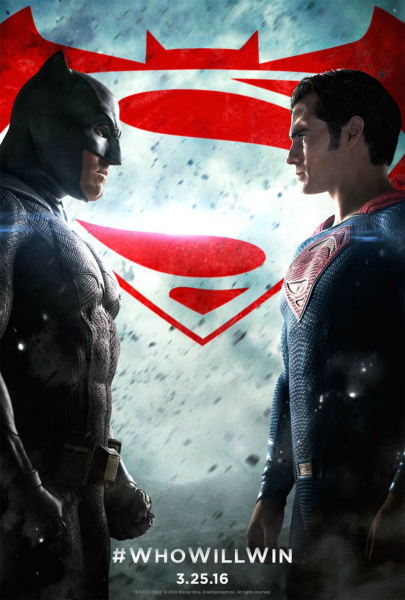 The four-pound bunny that propelled Zootopia to victory at the box office for an impressive three weeks was no match for the powerhouse that is Batman v Superman: Dawn of Justice, as the Caped Crusader and Man of Steel easily crushed the Disney picture in earnings this weekend.
Zack Snyder's hotly anticipated film stormed onto screens, raking in a record-breaking $170.1 million. With Ben Affleck and Henry Cavill in the title roles, it's no surprise that the flick attracted enormous droves of audiences. The picture, which pits Bruce Wayne and Clark Kent against each other, is a favorite among Tribute.ca users as well, garnering a 3.8 star rating. The film will surely sit atop the box office podium for a number of weeks to come. It had the sixth biggest opening weekend of all time, the biggest opening weekend for a DC Comics film and the most successful opening weekend of 2016 so far.
Although it was a casualty of the epic Batman v Superman, Zootopia snuck in for the second-place slot at the weekend box office, hauling in $23.1 million to bring its grand total profit to $240.5 million. Unable to retain its crown, the animated film, which is based in a fictional metropolis made up of mammals, received an outstanding 4.3 star rating from Tribute.ca users.
Nia Vardalos enjoyed great success with her 2002 film My Big Fat Greek Wedding, which earned a worldwide box office total of nearly $370 million. Although sequels are rarely as fruitful as their predecessors, My Big Fat Greek Wedding 2 managed to snag third place in its debut weekend. Receiving a 4.3 star rating from Tribute.ca users, the film follows the Portokalos family and the planning of another elaborate Greek wedding. It brought in $18.1 million over the weekend.
The Shailene Woodley and Theo James sci-fi flick The Divergent Series: Allegiant premiered last weekend and shot to second-place at the box office. However, it fell from a top-three finish, ending up fourth this weekend, despite its $9.5 million earning. Its box office total now sits at $46.6 million. It can still take pride in its 3.6 star rating though, awarded by users of Tribute.ca.
It makes heavenly sense that on Easter weekend, a faith-based film finds a home on the box office top-five list. Miracles From Heaven achieved that feat this weekend, bringing in $9.5 million and securing the final slot. The film, which is the real-life story of Texan Annabel Beam, a young girl who miraculously survived a terrible accident and subsequently was cured of her debilitating illnesses, opened last weekend. Its box office total now towers at $34.1 million. The movie is performing well in the hearts of Tribute.ca users too, evident by its 4 star rating.
~Matthew Pariselli