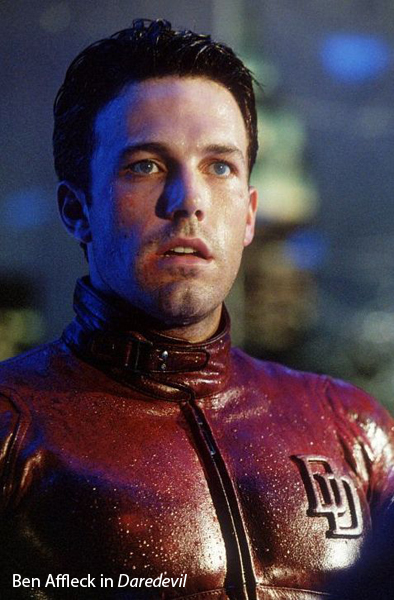 Hate is a pretty strong word, and in the case of Ben Affleck and Daredevil, it apparently applies.
The Oscar winner was at The New York Times' TimeTalks series at NYU's Skirball Center for the Performing Arts on Monday (Dec. 12), where he opened up about how his first superhero film unwittingly inspired him to do his next — Batman v Superman: Dawn of Justice.
"That's the movie I want to do. I want to be a part of that," he told the Times. "Part of it was I wanted for once to get one of these movies and do it right – to do a good version. I hate Daredevil so much."
In the critically panned 2003 flick, the actor starred as Matt Murdock, a blind attorney with superhuman senses known in comic book circles as Daredevil. The film also featured Jennifer Garner (before Bennifer 2.0 became a thing) as Elektra, Michael Clarke Duncan as Kingpin, Jon Favreau as Foggy, and Colin Farrell as Bullseye. The story has since been adapted to a highly successful Netflix series starring Charlie Cox as the titular sightless hero.
"It frustrated me. The Netflix show does really cool stuff," Ben continued. "I feel like that was there for us to do with that character, and we never kind of got it right. I wanted to do one of those movies and sort of get it right."~Shelby Morton
What do you think about Ben's confession? Do you agree with him? Or is Daredevil not so bad? Sound off below!