Best Thanksgiving movies to watch this weekend
By A A on October 9, 2016 | 2 Comments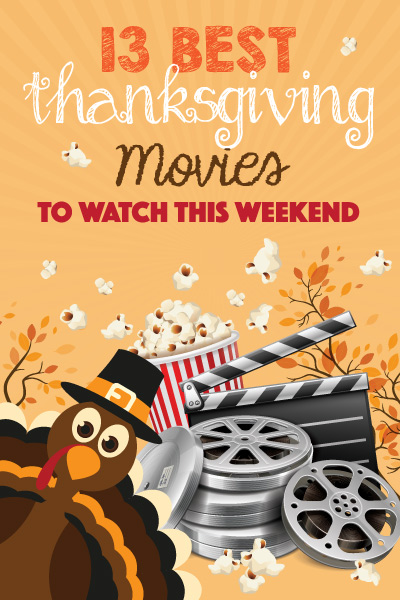 Turkey, and stuffing and cranberries, oh my! There's nothing quite as lovely as spending the Thanksgiving Weekend with friends and family (and food, lots of food) but what way to make it even more special than by curling up in front of the fire and watching a great movie – and why not a Thanksgiving movie? We here at Tribute.ca did the work for you and put together a list of the 13 Best Thanksgiving Movies To Watch This Weekend!
The New World (2005)
Pastoral landscapes, swelling instrumentals and gripping narratives make The New World a compelling recount of the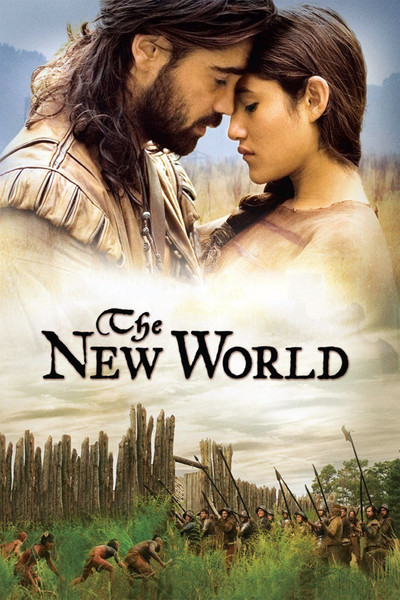 Thanksgiving settlers we've heard about since early childhood. Arriving with a British expedition in Virginia in 1607, Capt. John Smith (Colin Farrell) is captured by Native Americans. His life is spared thanks to Pocahontas (Q'orianka Kilcher), daughter of the tribe's chief. Smith and Pocahontas fall in love, to the mutual dismay of the Native Americans and the British. Smith is sent away, and his death is reported. An unhappy Pocahontas marries settler John Rolfe (Christian Bale). When Smith turns up alive, Pocahontas is torn between the two men.
Trailer: The New World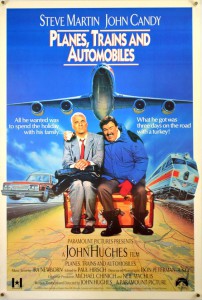 Planes, Trains and Automobiles (1987)
The very easily excitable Neal Page (played by Steve Martin) is somewhat of a control freak. While trying to get home to Chicago to spend Thanksgiving with his wife and kids, his flight is unfortunately rerouted to a distant city in Kansas because of a freak snowstorm — and his sanity begins to fray. Worse yet, he is forced to bunk up with talkative Del Griffith (John Candy), whom he finds extremely annoying. Together they must overcome the insanity of holiday travel to reach their intended destination.
Trailer: Planes, Trains and Automobiles
The Blind Side (2009)
Michael Oher (Quinton Aaron), a homeless black teen, has drifted in and out of the school system for years. Then Leigh Anne Tuohy (Sandra Bullock) and her husband, Sean (Tim McGraw), take him in. The Tuohys eventually become Michael's legal guardians, transforming both his life and theirs. Michael's tremendous size and protective instincts make him a formidable force on the gridiron, and with help from his new family and devoted tutor, he realizes his potential as a student and football player. A central, poignant scene revolves around Leigh Anne inviting Michael to spend the Thanksgiving holiday with the family – a turning point in the story! Warning: This one is a tear-jerker!
Trailer: The Blind Side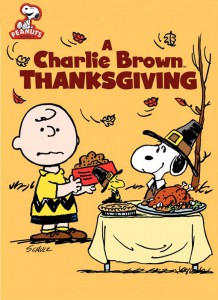 A Charlie Brown Thanksgiving (1973)
How could we not include this on our list? When Peppermint Patty ("C'mon, you can do it, Chuck!") and her friends finagle Charlie Brown into serving a traditional Thanksgiving dinner, it's up to Woodstock and Snoopy to make the day a success. Thanks to daring dishes like buttered toast and popcorn, and a memorable struggle with an uncooperative folding chair, Snoopy lends his own brand of wordless charm to the day's events. As the gang gathers around a ping-pong table for their unique meal, the true meaning of Thanksgiving shines through.
Boogeyman (2005)
Who says all Thanksgiving movies need to be sweet-as-pie. This film centers around Tim, who as a young boy, witnessed the horrifying event of his father being dragged away by the boogeyman. Despite the reassurances of his mother (Lucy Lawless) that the boogeyman is not real, he is never the same afterward. Years later, Tim (Barry Watson) manages to create a normal life for himself — though he lives without closets and keeps his mattress on the floor. But when he learns of his mother's death, Tim must return home to face his childhood trauma during the Thanksgiving holidays, and things get, well, boogey'riffic!
Trailer: Boogeyman
Grumpy Old Men (1993)
John Gustafson (Jack Lemmon) and Max Goldman (Walter Matthau) are two curmudgeonly neighbors who have been at each other's throats for years. The rivalry of the former friends intensifies when Ariel (Ann-Margret) comes along and provides a love interest for both of them. When Max finds out that John is experiencing family troubles and financial ruin, however, he steps in to help. Their bond is further cemented when John has a health scare and Max makes the ultimate sacrifice for his friend.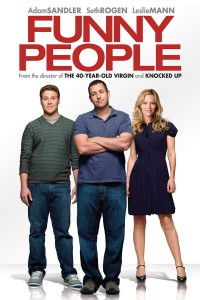 Funny People (2009)
Who doesn't love a laugh during the holidays? Judd Apatow's Adam Sandler/Seth Rogen dramedy spans a good amount of time in the lives of its characters, but an early highlight is a scene in which Adam Sandler, as comedian George Simmons, offers up a Thanksgiving toast at the house of his protégé, Ira Wright (Seth Rogen). The film centers around a comic who has learned that he has a fatal disease. When he spots a struggling performer named Ira (Rogen), he decides to become his mentor. The men become close friends as George teaches Ira the art of stand-up comedy, and Ira helps George define his legacy. When an old flame (Leslie Mann) reappears and the disease goes into remission, George gets a chance to re-evaluate his life and figure out what is truly important to him.
Trailer: Funny People
Dutch (1991)
Working man Dutch (Modern Family star Ed O'Neill) is dating the divorced Natalie (JoBeth Williams), and he offers to drive her stuffy 13-year-old, Doyle (Ethan Randall), from his private school in Atlanta to his mother's home in Chicago for Thanksgiving. Doyle is not interested as he blames Natalie for the divorce and wants nothing to do with Mom's new boyfriend, especially given the man's lowly, working-class roots. This pairing makes for a journey filled with bickering, mishaps and, eventually, bonding.
Pieces Of April (2003)
Quirky and rebellious April Burns (Katie Holmes) lives with her boyfriend in a low-rent New York City apartment miles away from her emotionally distant family.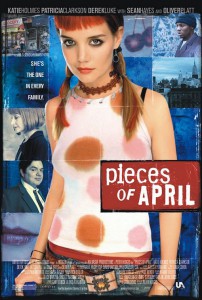 But when she discovers that her mother (Patricia Clarkson) has a fatal form of breast cancer, she invites the clan to her place for Thanksgiving. While her father (Oliver Platt) struggles to drive the family into the city, April — an inexperienced cook — runs into kitchen trouble and must ask a neighbor (Sean Hayes) for help.
Trailer: Pieces of April
Son In Law (1993)
Crawl (Pauly Shore) is a big city boy who travels to the Midwest for Thanksgiving, pretending to be the fiancé of a farmer's daughter he befriended at a Los Angeles college. His guise as Rebecca's fiancé is designed to discourage an overly ambitious suitor in her hometown, but the strait-laced innocent (Carla Gugino) eventually falls for Crawl as he bungles his way through a series of down-home traditions.
The Ice Storm (1997)
In the 1970s, an outwardly wholesome family begins cracking at the seams over the course of a tumultuous Thanksgiving break. Frustrated with his job, the father, Ben (Kevin Kline), seeks fulfillment by cheating on his wife, Elena (Joan Allen), with neighborhood seductress Janey (Sigourney Weaver). Their teenage daughter, Wendy (Christina Ricci), dabbles in sexual affairs too — with Janey's son Mikey (Elijah Wood). The family's strained relations continue to tauten until an ice storm strikes.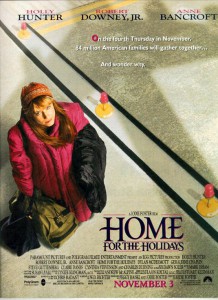 Home For The Holidays (1995)
When her teenage daughter opts out of Thanksgiving, single mother Claudia Larson (Holly Hunter) travels alone to her childhood home for an explosive holiday dinner with her dysfunctional family. Claudia quickly tires of her parents, her long-suffering sister (Cynthia Stevenson), her snobby brother-in-law (Steve Guttenberg) and her nutty aunt (Geraldine Chaplin). But the evening gets interesting when sparks fly between Claudia and her brother's handsome friend (Dylan McDermott).
Rocky (1976)
While boxing isn't necessarily a Thanksgiving tradition, there's a scene pivotal to the entire series of films that involves a Thanksgiving dinner gone wrong in this classic fight film. Rocky Balboa (Sylvester Stallone), a small-time boxer from working-class Philadelphia, is arbitrarily chosen to take on the reigning world heavyweight champion, Apollo Creed (Carl Weathers), when the undefeated fighter's scheduled opponent is injured. While training with feisty former bantamweight contender Mickey Goldmill (Burgess Meredith), Rocky tentatively begins a relationship with Adrian (Talia Shire), the wallflower sister of his meat-packer pal Paulie (Burt Young).
Trailer: Rocky
What do YOU think of the films on our list? Did we miss any? Let us know in the comments section!
---
---
---
---
Similar Articles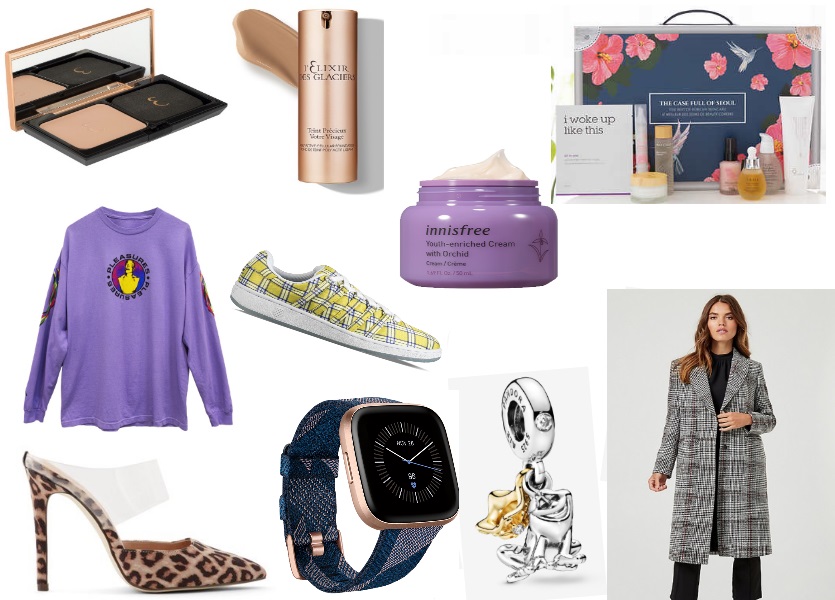 October 8, 2019 | 3 Comments
With Thanksgiving around the corner, we stuffed this turkey-sized list with some of the hottest gifting items to show your family and friends how thankful you are.
---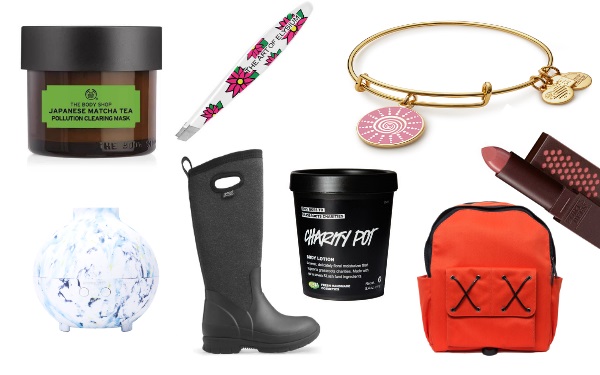 September 29, 2017 | Leave a Comment
Our Thanksgiving gift guide brings you ideas for hosts, family and friends while also giving back to the community. Shop now for these feel-good items.
---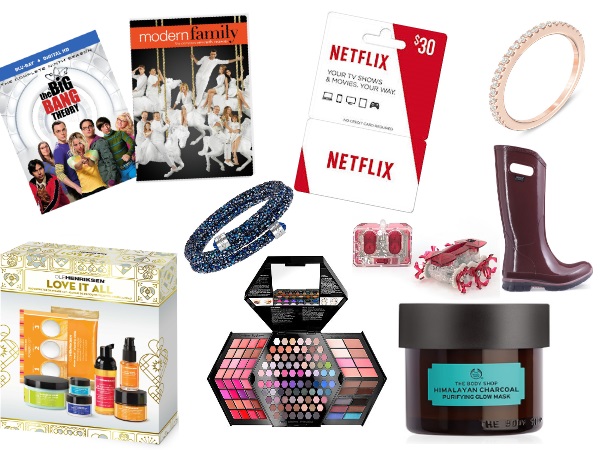 September 28, 2016 | 3 Comments
With Thanksgiving around the corner, we stuffed this turkey-sized list with some of the hottest gifting items to show your family and friends how thankful you are.
---