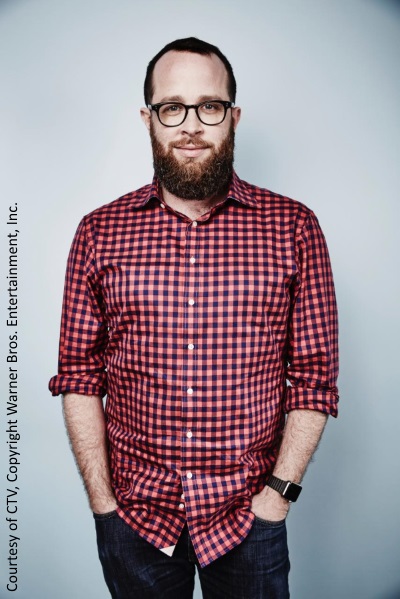 Canadian screenwriter and executive producer Martin Gero is the brains behind the popular CTV show Blindspot. The show stars Jaimie Alexander as Jane Doe, who winds up in a bag in Times Square with no recollection of who she is. Her body is covered in tattoos – including the name of FBI agent Kurt Weller, played by Sullivan Stapleton. The show, which debuted this fall, has already been picked up for a full season. We chatted with Martin about mysteries, tattoos and Jane Doe, of course.
This show is so different and I love the way each episode unfolds. How did you come up with the concept?
Thank you. I wanted to do a show like this forever. I love the The Goonies, the Dan Brown books and National Treasure. They appeal to a great part of my brain. I love escape rooms and scavenger hunts. I was just trying to figure out how to make that work into a TV show, which is difficult to do episode to episode. And then I just had an image of a woman covered in a treasure map potentially found in Times Square and I was like wow, this is maybe a show so I should spend some time to figure it out.
Tell me about shooting in Times Square.
That's really exciting. I had shot there for a TV show I did called Bored to Death before. So I knew you could shoot there. The NYPD in New York are so friendly. They went out of their way to help us achieve this crazy look. But at the end of the day we had a lot budgeted for visual effects because we were like, "We're never really going to empty it [Times Square] out." But we really emptied it out. I mean we had an army of production assistants and great police cooperation. We could get the entire Times Square emptied for about two minutes at a time. So we would shoot as much as we could for those two minutes before New York just spilled over. It was really amazing to do; to have an opening scene like that – a single visual effect in such an iconic piece of geography. It was really a highlight of my career.
Have you mapped out who is eventually responsible for what happened to Jane and how it will all make sense to the audience?
Yes, we know who Jane is and who did this to her and we know why. We have all the episodes sorted out for the next three seasons. It is really important on a show like this to know where you're going. At the same time, because we know what we're doing and the story is so complex, we are able to roll out information really quickly – there are major reveals every episode. We don't believe in giving the audience breadcrumbs. We give them a whole loaf every episode.
What is the first season's arc and what questions will be answered by the finale?
I don't want to give away too much but I feel every season should be a standalone thing like a novel in a series of books. Obviously the main question of the season is who is Jane Doe and we're trying to answer that as much as we can. But there'll be some big answers along the way.
How do the other characters play into it?
What's fantastic is that we have one of the best casts on television. They were our first choices, which never ever happens. I think what's fun to watch is the chaos Jane creates in all of their lives.
How far along do the tattoos remain the focal point?
I would say pretty far at least for the next couple of seasons.
Jaimie is fantastic as Jane. How did you decide to cast her?
One of the scariest things about the show getting picked up was, "Oh my God, now we have to find a Jane." I knew how difficult that was going to be. I had been tracking Jaimie's career for quite a long time. For me she is an incredible combination of strength and vulnerability. That's what the character needs – to be able to have that strength but really have that vulnerability to make you ache for the situation she is in. From the moment I met her I knew it had to be her.
What do Jaimie Alexander and Sullivan Stapleton bring to their roles?
What's interesting is it's very similar. Sullivan is a world class action guy but he is also a fantastic actor. He has such warmth in him, he can really tap into the trauma Weller has gone through from losing his next door neighbor when he was just a kid. He can throw a punch but he can also be really quiet and insanely watchable. You'd be lucky to have one of them on your TV show but to have both of them is one of the reasons the show is a success.
What else are you working on?
This is my main focus now. We do 22 episodes a year so that's a full time job.
Thanks for chatting with us!
Thank you.
Blindspot airs Mondays at 9 p.m. ET/PT on CTV.
~Marriska Fernandes