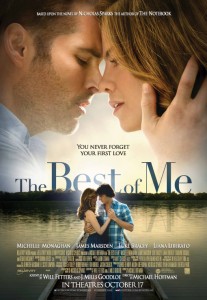 Two-time box office champion Gone Girl has some major competition this week, with several new films opening in theatres today. In the war film Fury, Brad Pitt stars as army sergeant Wardaddy, who leads a five-man team on a deadly mission inside enemy lines. Co-star Shia LaBeouf recently admit he slashed his own face for the film in order to make it look more authentic. Check showtimes here.
Audiences looking for something on a more romantic note may want to check out the latest Nicholas Sparks adaptation The Best of Me, starring James Marsden and Michelle Monaghan as high school sweethearts who reunite after being apart for 20 years. Sounds similar to The Notebook, but in our interview with the film's stars they discuss how different the two films really are. Check showtimes here.
Also opening this week is the stunning animated film The Book of Life, starring Diego Luna as a young man who competes with his dashing rival (Channing Tatum) for the affection of a beautiful woman (Zoe Saldana), whose fate is altered when competitive spirits intervene. Check showtimes here.
Bill Murray's TIFF premiere comedy St. Vincent also opens in limited release this weekend, wide next weekend. He stars as grumpy neighbor Vincent, who takes a 12-year-old boy under his wing and teaches him about gambling, fighting, stealing, much to the horror of his mother (Melissa McCarthy) and the local parish priest (Chris O'Dowd). The actor recently told reporters he has no plans to campaign for an Oscar nomination. Check showtimes here.
You can find the full list of movies currently in theaters on our website, including all the latest showtimes in your area. Have a great weekend and enjoy the show! ~Kelly Townsend