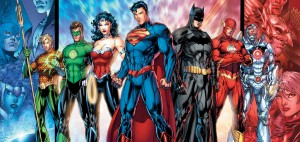 Great news for comic book fans! Warner Bros. CEO Kevin Tsujihara announced their intention to take advantage of the market that the comic book niche has created, releasing at least 10 movies with DC-branded content. From 2016 through 2020 the big screen will be decorated with a universe of characters. Expect to see Batman v. Superman: Dawn of Justice stars Ben Affleck, Henry Cavill and Amy Adams reprise their characters in Justice League Part One – with co-star Gal Gadot starring in a Wonder Woman spin-off movie. Here's what we can look forward to:
Batman v. Superman: Dawn of Justice (2016)
Suicide Squad (2016)
Wonder Woman (2017)
Justice League Part One (2017)
The Flash (2018)
Aquaman (2018)
Shazam (2019)
Justice League Part Two (2019)
Cyborg (2020)
Green Lantern (2020)
Harry Potter fans will also be pleased with the hype of Fantastic Beasts and Where to Find Them. The extension of the wizarding world has guaranteed at least three pictures set to be released in 2016, 2018 and 2020. The films will also serve as J.K. Rowling's screenwriting premiere and will be shepherded by director David Yates, who famously re-created the final four Harry Potter films.
Additionally, Warner Bros. Worldwide Television Distribution attained the exclusive subscription-video-on-demand rights to Friends – the series will be available on Netflix starting January 1, 2015.