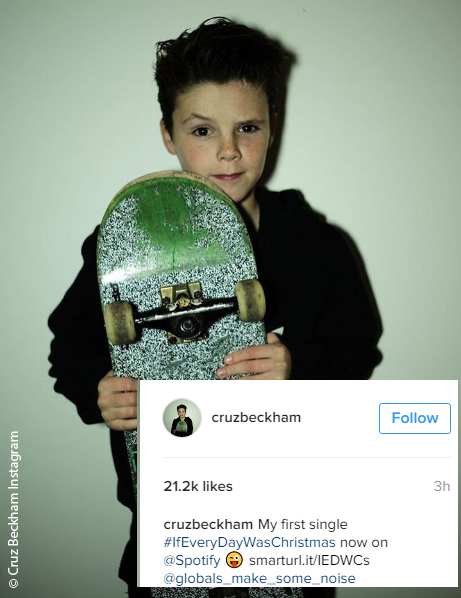 David and Victoria Beckham's youngest son, Cruz Beckham, 11, released a single yesterday titled "If Everyday Was Christmas." Proceeds from the single will go to the British charity Make Some Noise, which helps disadvantaged children and young people in various ways through smaller charities.
Cruz, who recently signed with Justin Bieber's manager Scooter Braun, said during a radio interview to promote the single that it incorporates two of his favorite things: "singing and Christmas."
The third youngest Beckham (he has a younger sister) has been teasing the single this week on his Instagram page. However, not all the feedback has been positive.
Piers Morgan, one of the hosts of the TV show Good Morning Britain, slammed the Beckhams for exploiting their son.
When both of his co-hosts said they thought the single was a good thing because it was for charity, Morgan replied, "I say, why don't you go to school mate? Because you're not famous, your parents are famous." He added that the Beckhams should "stop putting these kids into the public domain while simultaneously saying 'privacy!'."
Scooter Braun protested on Twitter, writing, "how about you match him dollar for dollar to the charity? Instead of criticizing step up and help these kids the way Cruz is."
To which Morgan responded: "Stop pretending this is about charity when it's about promoting Brand Beckham & making YOU a ton of money off another young kid's back."
Morgan described Cruz's singing voice in a Daily Mail article as "fairly squeaky and quite annoying."
Check out the single below and tell us if you agree with Piers Morgan.