Ewan McGregor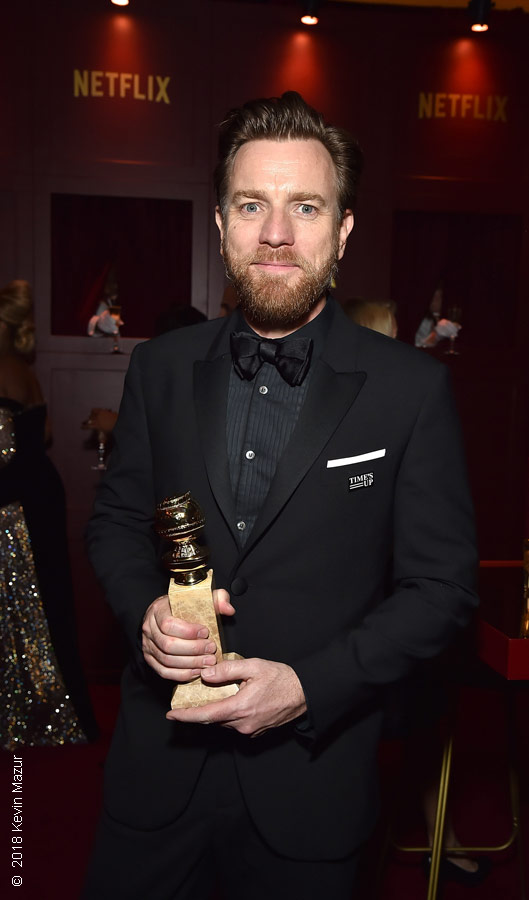 recently said he's seen Rian Johnson's take on cinema's most popular franchise with Star Wars: The Last Jedi and thought it was "beautiful." It seems it's brought back fond memories for the actor who starred in three Star Wars films as Jedi Master Obi-Wan Kenobi, because he confirmed he'd be interested in reprising the role at last night's Golden Globe Awards, where he picked up an award for best actor in a TV movie or miniseries for his role in Fargo.
And he's not the only one. There's been much speculation about what the third anthology film will be in the Star Wars saga after 2016's Rogue One and this year's Solo: A Star Wars Story, with many suggesting it will take on another key figure in the expansive Star Wars narrative — and who better than one of the earliest Jedi fans encountered, Obi-Wan Kenobi.
Of course, if there will be a solo film about Obi-Wan, fans are likely going to want to see a familiar face. Ewan seems to be fully aware of this, saying, "I'd be happy to play [Obi-Wan] again."
But he added he doesn't know anymore about a standalone Obi-Wan film than fans and reporters do, saying there's just "a lot of talk."
Included in all that "talk" are rumors that there already might be a director interested in taking on the film, with The Crown's Stephen Daldry reportedly in the running to sit in the director's chair. Until further notice though, you can count on catching Solo: A Star Wars Story when it hits theaters May 25.
What do you think the next Star Wars anthology film should be about? Would you like to see it take on the story of Obi-Wan Kenobi? Let us know your thoughts in the comment section below. ~Alexa Caruso