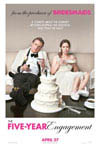 The Five-Year Engagement stars Jason Segel and Emily Blunt as Tom and Violet, a newly-engaged couple trying to plan their wedding. When Violet is offered a job at the University of Michigan, the two decide to put off getting married until her two year contract is up. Tom, a chef, willingly leaves San Francisco behind believing that he can cook anywhere, but upon arriving in Michigan, realizes it might not be as easy as he  thought. The longer the couple stays in Michigan, the more distant they become and as they begin to resent each other, their affections begin to stray.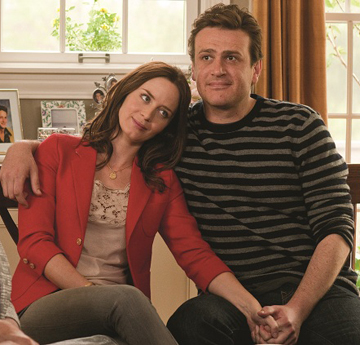 Segel fits comfortably into the 'martyr' role, throwing in his typical amount of nudity for good measure, while Blunt appears as the conflicted Violet, torn between her love for Tom and her love of education. Not outshone in supporting roles are Chris Pratt, who is spot on as Tom's best friend Alex – party boy turned responsible father, alongside Alison Brie's quirky character Suzie, Violet's sister. Also seen in the film are The Amazing Spider-Man's Rhys Ifans as Violet's boss and temporary lover, as well as Kevin Hart, Mindy Kaling and Randall Park as the most hilarious group a university's psychology department has ever seen.
With a stellar line-up of comedic actors, no one will escape this film without a laugh, but the underlying story and Tom's gradual decline into insanity are also worth some attention. Segel is commonly seen as the sensitive guy, with his role on How I Met Your Mother and even dating back to his role on Freaks and Geeks, but this character allows audiences to explore a slightly darker side of him. Although his antics are comedic as he slowly turns into what Alex refers to as "Lamb Chop Tom," this role shows Segel dabbling in a slightly more twisted side of comedy as opposed to the awkwardly lovable characters he usually takes on.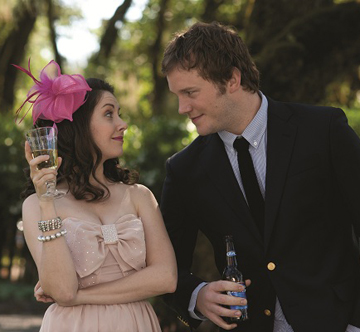 Back to the comedy, a definite high point is when Alex decides to sing a list of Tom's past lovers to the tune of Billy Joel's "We Didn't Start the Fire" at the couple's engagement party, with other standouts including Suzie's engagement speech, the cast debating the pronunciation of "Gwyrth" and when Violet is shot in the knee with a crossbow.
The DVD/Blu-Ray combo pack includes a theatrical version and an unrated version, as well as a refreshingly good set of bonus features. With extended scenes, a sequence of alternate lines and a gag-reel that is guaranteed to make you laugh until it hurts, these extras are definitely worth checking out. A romantic comedy with a Segel twist, The Five-Year Engagement is great for a date night, girls night in, or anytime you need a good laugh. A digital copy download is offered with the combo pack at no extra charge so you can even take the movie with you on your smartphone, laptop, or tablet, making it the perfect guilty pleasure wherever you are. ~Morgan Bates