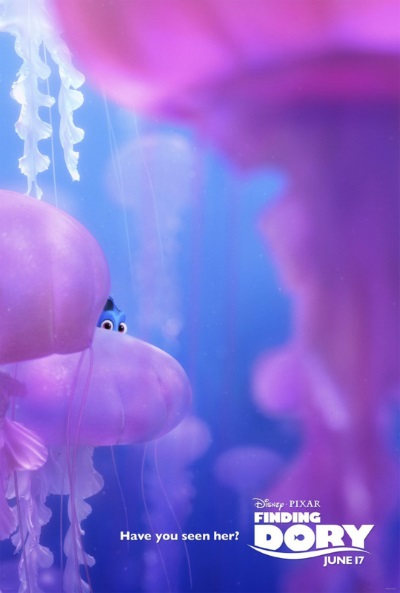 After waiting 13 years, or two lifetimes for the average fan of these movies, Dory is back. Finding Dory is the story of everyone's favorite forgetful fish. One year after the events of Finding Nemo, Dory suddenly remembers her parents are off the coast of California — on the other side of the ocean. It's up to Marlin and Nemo to help their old pal Dory find her family.
We all loved Finding Nemo. Whether you saw it or not, the movie is sewn into our collective unconscious. Assistant editor Marriska Fernandes and writer Yanis Khamsi watched the advanced screening of the movie and discuss what they thought of the film.
Marriska: I was really looking forward to the movie. In my books, Finding Nemo is a classic and I couldn't wait to see what the sequel would bring to the reef. Finding Dory is absolutely adorable.  I loved the storyline and the stellar animation.
Yanis: I loved the oceanic wonderland of Finding Nemo and I will never look at clown fish or regal tangs quite the same. Even sea turtles will always have a surfer accent to me. When Ellen announced Finding Dory, I was really excited. The film does not disappoint.
Marriska: Agreed. Although the movie doesn't surpass Finding Nemo, it comes quite close. Kids and adults alike will enjoy going on this unforgettable journey with Dory and her sea of new friends. The new characters, especially those seals, were hilarious. I get a kick every time I think about those scenes.
Yanis: I liked the misanthropic octopus (or septopus, since he's missing a tentacle), the near-sighted whale shark and the beluga, who's insecure about his ability to use echolocation. These three characters all pay off brilliantly and I was invested in all three of their arcs.
Marriska: Right. I liked how each of the characters introduced in the film have their own unique personalities. Even Becky, the weirdest looking bird in the history of animation, was quite a character.
Yanis: I wish that Nemo and Marlin were given better character arcs. Nemo doesn't have a distinct character other than the fact that he's Marlin's son and that he's well known to the audience who saw Finding Nemo. Marlin is as neurotic as ever, and although his character does ease up a bit, you get the feeling that he's always going to be the way he is. As for Dory, I think Ellen did an amazing job. You can tell she was having the time of her life and she should be proud of her performance.
Marriska: I would have liked to see more of Nemo and Marlin too. As for Ellen, she encapsulated Dory in a way that no other actor could have. What I loved about the film is that even though it's swimming with humor, the underlying message is emotionally moving and educational. Living with short-term memory loss and the impact it has on one's family is very well portrayed. We are given enough reasons to empathize with Dory and her disability. I loved how Pixar tackled this issue – a high-five for that!
Yanis: That's right. I also liked that one of the central themes in Finding Dory is to have faith in others. I can't give too much away, but Dory's faith in her friends and in herself is what ultimately helps her save the day.
Marriska: Agreed. It's a praiseworthy successor to the beloved prequel. I give the forgetful fish film an unforgettable A-.
Yanis: I give Finding Dory a B+. It's not enough to win over people who didn't see or didn't like Finding Nemo, but it's a nostalgic ride with our favorite fish family. One more thing — there's a scene after the credits. Die-hard Finding Nemo fans won't want to miss it.